posted by dave on Friday, February 23, 2007 at 10:41 AM in category
travel
This used to be a standalone page, but I'm making it a blog entry now because (a) I'm bored and (b) It'll be easier for people to make trip suggestions.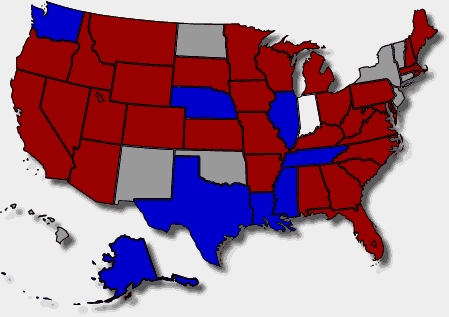 This is just a map showing the states I've been to. States in blue are places I've lived, states shown in red are places I've been to, and states in gray are places I've yet to visit. Of course the goal is to eliminate all of the gray states. Indiana is in white both because I was born there and because it's where I currently live.
The rules I use here are pretty simple. To count as a visit I have to not be at the airport. Driving through a state without stopping doesn't count either. To count as a residence I have to have moved out of my previous residence.
The furthest West I've ever been: Anchorage, Alaska (149.9 W)


The furthest North I've ever been: Palmer, Alaska (61.6 N)


The furthest East in the United States: Portland, Maine (70.26 W)


The furthest South in the United States: Orlando, Florida (28.5 N)


This is your chance to help shape my destiny. You want to. I know you do. So leave a comment to suggest locations for my upcoming mini-vacations.
Look at the map above. The gray states are those that I'd be most interested in visiting, but I'll consider just about anyplace.
Just keep in mind that I'm talking about three or four days at the most here, so someplace like Honolulu probably wouldn't be a good choice. Most of the West coast will also have to wait for a longer vacation. I don't want to waste two days flying there and back. Long drives are a better option though because I enjoy the driving.
My priorities in selecting a destination, in no particular order:
Places I haven't been before (either cities or states)


People I know are there (no unattractive stalkers please)


Availability of good beer (such as brewpubs or bars with good regional selections)


Beautiful scenery (mountains and oceans and shit)


Other tourist attractions (historical and museums and the like)


Professional baseball games (this affects WHEN I could visit)