posted by dave on Friday, February 23, 2007 at 8:12 AM in category
pictures
RIght after I got my new Blackberry I took this picture of the stuff adorning my desk. Many of these are things that I've posted here before.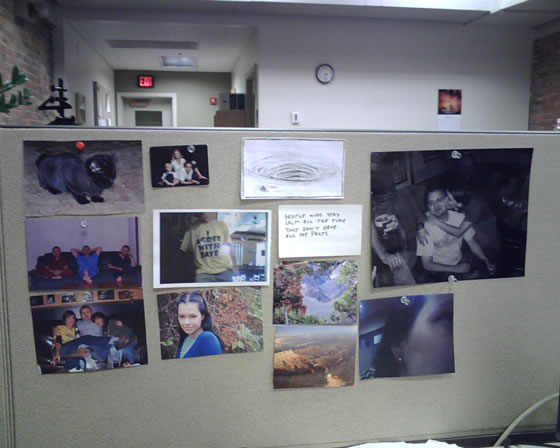 From top to bottom, then left to right:
My cat Buddy after he got shaved.
An image I made of three of me on my couch.
BadPickleGirl and me and BadPickleGirl's cousin at Rich O's.
My sister Dina's kids.
MisunderstoodGirl wearing a shirt that says I agree with Dave.
A picture of HatGirl that I really like.
A whirlpool that RockGirl drew. I think of it as my department's unofficial logo.
A little saying I got from somewhere. People who stay calm all the time just don't have all the facts.
A picture I took at the Grand Canyon in August 2006.
Another Grand Canyon picture.
Me and SassyGirl at DaveFest last Summer. This picture also hangs on the wall at Rich O's.
A picture of HatGirl's ear. This picture doesn't taste very good.
And now, that picture I took of NotHideousGirl yesterday is up there too, just below the HatGirl picture.