posted by dave on Sunday, April 10, 2005 at 3:00 PM in category
daily
I wonder if I can get Floyd County to put this sign up in front of my house: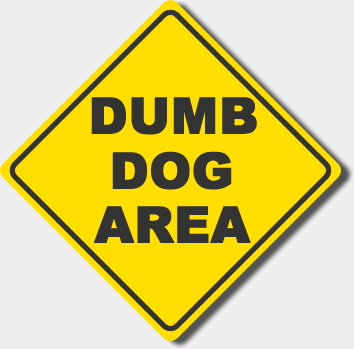 I've written before about Dino, my neighbor's dog that helps me mow my lawn.
Well today I mowed my lawn for the first time this Spring, and of course Dino came running (hobbling actually - he's got arthritis) to help and ran right in front of a car.
He didn't get hit, just maybe startled a little.
After a while, Dino decided to go swimming so he went back across the street, and walked right in front of another car.
Once again, he didn't get hit.
Are you sensing a pattern yet?
No less than five times total did Dino tempt fate by walking straight across the road without even thinking about checking for traffic first.
Eventually I suppose he'll get hit and killed. I hope I'm not there when it happens.
He's a good boy, just a little dumb.