Okay, as I mentioned, I left the game early to check out this Boston Beer Works place.
I was very much aware that there were 50,000 people across the street watching the game and I figured that a large number of them would be coming in soon to do some drinking (and distract the bartenders from getting me more beer), so I ordered two beers right off the bat:
Beer Works Bunker Hill Bluebeery Ale (5)
(draft) This might have been sweet and syrupy or it might have been all the blueberries floating up and down. I couldn't finish the glass. Those things hitting my lips were just too strange.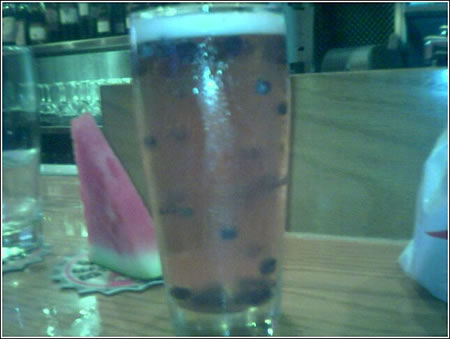 Seriously, those blueberries were just too much! I ended up leaving the glass sitting in front of me for the entire night. The blueberries would rise and fall constantly. It was like a little lava lamp or something. As far as the beer went, I just never got a good enough taste of it to really form an opinion.
Beer Works Watermelon Ale (12)
(draft) A light brown ale (think Newcastle) with a wedge of watermelon in it. Once I removed the offending fruit I couldn't detect anything noteworthy. Maybe a bit of a hoppy finish.
This beer wasn't too bad, but without the fruit wedge there wasn't really any watermelon taste to it.
So by this point I'd found myself in a conversation with a cute girl from England. She's going to get her very own entry in this 'blog, but for now, she was very cool and we spent the entire night talking until they closed the bar and kicked us out.
Beer Works Beantown Nut Brown Ale (12)
(draft) A nice malty brown ale. Very pretty lacing. There was a bit of a coffee overtone that I could have done without. Quite good though.
Before I ordered this I asked the bartender if there were going to be any surprises. She didn't get what I meant. It was good enough that I'd have had another one if there weren't any other beers that I wanted to try.
Beer Works Haymarket Hefeweizen (12)
(draft) A very cloudy yellow beer. Strong banana aroma. Came with a citrus wedge that I seem to have removed before it ruined the flavor. Quite yummy.
Another fucking piece of fruit! Don't these people know anything? Anyway, with the fruit gone, this was my favorite beer of the night. EnglishGirl tried some too, breaking away from her fairly constant stream of Boston Common beer. She claimed to like it but didn't quite finish it before ordering another Common.
The guys I'd been traveling with came in at about this point and, thankfully, didn't mess with me and my new friend. I'm sure they considered it though. If they had, I may have lost it because by this time I was quite fascinated with EnglishGirl. This was probably fairly apparent to them, and I appreciate their restraint.
Beer Works Buckeye Oatmeal Stout (12)
(draft) Pretty good. A slight coffee taste. A slightly bitter finish. More roasted malt flavor than I'm used to in this style, and I think that's what saved it for me.
By the end of this glass I really liked this beer.
The place had another dozen or so drafts listed, but there were none that looked appealing to me, so I just had another glass of the hefeweizen (24). By this time I was also amazed at all of the alcohol I was putting away. I guess the twelve oz. glasses made it seem like more than it really was.
As I said before, EnglishGirl and I ended up staying until they kicked us out...