posted by dave on Sunday, September 25, 2005 at 11:45 AM in category
drink
I don't feel like writing anything, but I guess I'll get this over with.
Last night Rich O's was just incredibly dead. One of the PBDs was having a party and all of the other PBDs has gone to it. Not that I particularly miss those people.
MisunderstoodGirl was sitting at the bar when I came in, but she was talking with one of the assholes that does nothing but badmouth you know who all the time, so I went over and sat at the island.
I had a Smithwick's (540). I started off with a tame beer because I'd originally planned to be there for a while and I wanted to pace myself.
After the asshole left MisunderstoodGirl came over and we talked for a while. I wanted to try something new, so I had this beer from Lithuania.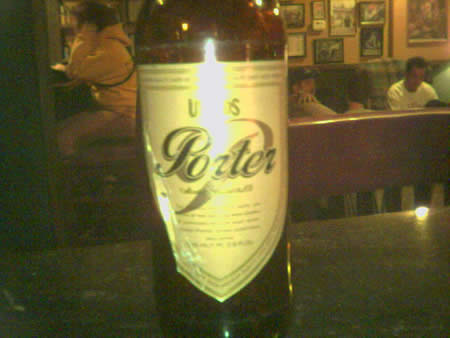 Utenos Porter (17)

(bottle) Very malty and sweet. There might have been some chocolate and/or coffee flavor under all that malt, but I couldn't be sure. Mouthfeel was creamy and sticky. Finished like it had a higher ABV than it really did.
About halfway through this beer my friend left and the entire place pretty much emptied out except for some idiots that I don't know in the living room and some more idiots that were sitting behind me in the red room.
So by 9:30, I'd only been there an hour and I'd already had two beers. So much for pacing myself. I thought about maybe switching to Guinness but then I figured that it would only make my mood worse, so I paid and left.
Went to White Castle and spent a few minutes trying to get this cat that was in the parking lot to let me pet it, but it kept a four foot buffer between us at all times and just meowed.
Got home a little after 10:00, ate my White Castles, and played pool for a while.
Yippee!