posted by dave on Wednesday, October 5, 2005 at 12:32 AM in category
quiz
Stolen from Cawfee
1. When you look at yourself in the mirror, what's the first thing you look at?
I dunno, my face?
2. How much cash do you have on you?
Maybe $80.00, then about eleventy gillion in change on top of my dresser.
3. What's a word that rhymes with "TEST"?
Best.
4. Favorite plant?
I'm a guy. Plants are irrelevant.
5. Who is the 4th person on your missed call list on your cell phone?
My sister Dina.
6. What is your main ring tone on your phone?
The default one that came with the phone.
7. What shirt are you wearing?
White t-shirt.
8. Do you "label" yourself?
Stupid question. Next.
9. Name brand of your shoes currently wearing?
Just socks.
10. Bright or Dark Room?
Dark.
11. What do you think about the person who took this survey before you?
She's probably hot.
12. Do you know what an 8-track is?
Duh.
13. What were you doing at midnight last night?
Erasing drivel.
14. What did your last text message you received on your cell phone say?
"R u at rich os"
15. Do you ever click on Pop-ups or banners?
Nope.
16.What's a saying that you say a lot?
Why can't they come up with original questions for these things?
17. Who told you they loved you last?
Does it count if they take it back right away?
18. Last furry thing you touched?
My cat Nugget is in my lap right now.
19. How many hours a week do you work?
I try to keep it at forty.
20. How many rolls of film do you need to get developed?
It's the digital age now, haven't you heard?
21.Favorite age you have been so far?
Favorite age, I dunno. My happiest age, 27.
22. Your worst enemy?
I hate this one guy, but I don't think he hates me back. Does that count?
23. What is your current desk top picture?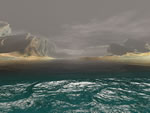 24. What was the last thing you said to someone?
I said "thanks" to this chick at the grocery store after work.
25. If you had to choose between a million bucks or to be able to erase all of your regrets, what would you choose?
A million doesn't go as far as it used to, but I think I'd take it. My regrets help make me who I am.