posted by dave on Monday, January 23, 2006 at 7:20 AM in category
general
So jodiechalese, a hot Australian girl who much to the dismay of men all over journalspace has apparently vanished, left me a very nice parting gift. She nominated me for the JS reader's pick thingy.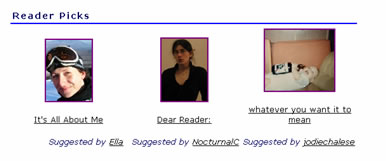 And there I am! Yay for me!
Once the initial shock and gratitude begins to wear off, however, I know that I'll be faced with a problem. A problem that will become painfully obvious to anyone venturing over to my journal because of this publicity.
I'm not very good.
At least not lately.
I'm sitting here, exposed like a fly on a plate, and I've got nothing. No drama. No pain. Not even any joy.
It's just me and my poemish things and my amateurish comics and my mundane entries about my mundane life.
It used to be better than this. I used to be better than this.
So there is some decent stuff in this journal. It's just a lot more difficult to find than it used to be.
Good luck.