posted by dave on Tuesday, June 6, 2006 at 7:22 PM in category
general
The DaveFest T-Shirts will be available tomorrow!
Yay!
Please buy one. Here's what's on the front: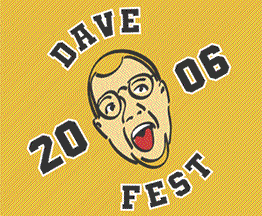 And then on the back is a list of all the DaveFest beers.
Because these are arriving almost a week later than was originally planned, I'm not expecting them to sell nearly as well as I'd hoped.
Again, please buy one. I'm selling them at cost (rounded up to the nearest dollar) and for Internet orders I'll pay shipping.
So, small, medium, large, and extra-large are going for $10.00. Size XXL is $11.00, and size XXXL is $12.00.
Fuck, I'll even sign the thing if you want.
For every shirt that doesn't get sold, I figure that will equal one day that I'll have to eat dirt to help make up for what I'm spending on these things.
I don't like to eat dirt, so please buy a shirt.
There, I even wrote you a poem.