I see, looking back, that it's been over a month and a half since I last reviewed a new beer. This is inexcusable, but the excuse that I'm going to use is that Schlenkerla Marzen has been readily available at Rich O's, and so I've been drinking a lot of that.
Well, tonight was a bust at Rich O's, in several ways, so now I find myself sitting at home almost stone-sober. This can not stand. So I've broken into my 'fridge and am now imbibing a new beer for me. I even took a picture of the thing.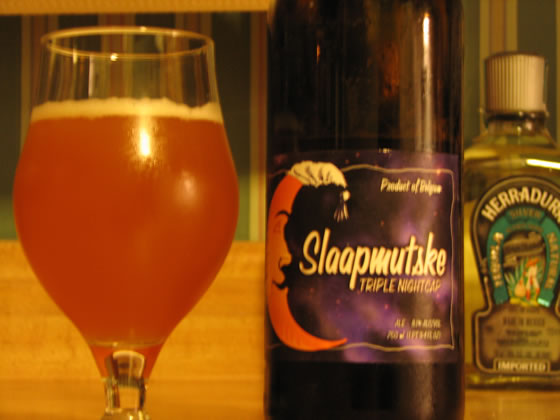 Hazy dark yellow. Decent head that faded rather quickly. Much more yeasty aroma than others of this style, quite intriguing, though. Mouthfeel a little thin, but standard for the style. Flavor pretty much what the aroma had led me to believe. Apples and yeasts, and some spices in there as well. Pretty goddamn good. I will definitely have more of this.
Anyway.
Tonight was, like I said, a bust at Rich O's. There were several reasons for this. First, I had a glass of New Holland Dragon's Milk (104) in honor of HatGirl, who couldn't make it. I've liked the Dragon's Milk okay in the past, but tonight it just didn't sit well with me at all. It seemed a lot stronger than I remembered. I barely finished the 10-ounce pour.
Next, I tried to drink a Smithwick's, but I couldn't finish the glass (1724). It wasn't helping at all.
The other reason that tonight was a bust was that I, once again, managed to forget what's really important to me. I get so fucking selfish sometimes, I forget almost everything besides my own wants and my own needs. Like those things ever mattered in the least.
I forget that this is all real now, present-tense, and that my actions and my behaviour can have very real consequences.
I ended up coming home at 9:30 or so, and then managed to make matters worse by spending a good part of the next hour and a half flinging giant greasy turds into spinning fan blades.
I hope I can be forgiven. And, if not, then I hope I can forgive myself.