This time...
...I heard a certain little kid call out my name, twice. I awoke with my heart pounding, and I knew that once again sleep would elude me for the rest of the night.
Writey
I'm feeling very writey tonight. This feeling will probably dissipate when I go back into the house.
Raining
I'm out in my garage again. It's raining. Matches my mood perfectly.
Unready
We need to break up. We need to break up before we can even really call it a break-up. We've discussed this. We're thinking about it.
Old
There's an old lady here who looks very familiar. I think I might have graduated high school with her.
Sam's
Even though it's a decidedly weird situation, we've still gotta eat.
Hmmm
Well that was an interesting conversation. What am I, 18?
Nostalgia
Eating at Denny's always reminds me of this great girl I dated right after my divorce. They're nice memories.
A nice thing...
...about being single is that I can go to Denny's whenever I want. So that's where I'm going now. Though, of course, I'd rather stay in bed with my arms around a girl, Denny's is still nice.
Warm
I'm so glad that it's warm. Now, if only I had my swing back. Sitting in my garage on my el-cheapo plastic furniture seems kinda white-trashy.
Thanks
Now I don't quite want to live, but I no longer want to die. It doesn't take much. Thanks.
DaveFest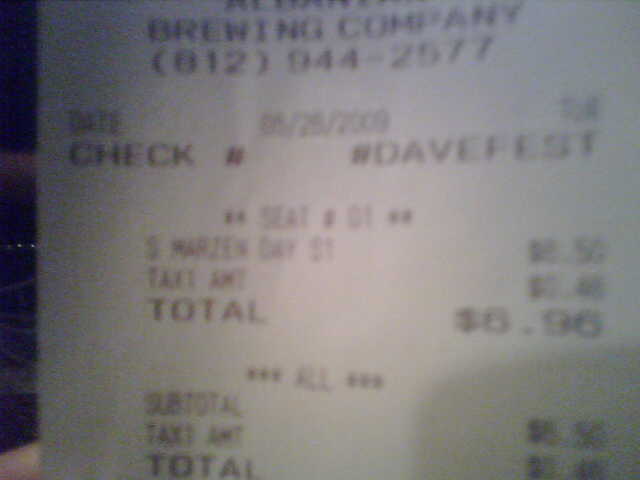 Back
Came back to Rich O's. Now it's too damn interesting. I miss being bored.
Irritated
I shouldn't be made to feel ashamed or embarrassed for being sad these days. It's who I am. Happiness or even acceptance would be a lie.
Boring
Rich O's was boring. Now I'm at Jack's. It's boring here, too.
Because all white people look alike
I just got carded for cigarettes.
Phoenix
Now they want me to go back for a much bigger project. It's very tempting. I told them I'd have to think about it.
Tennis
When watching women's tennis, I always root for the hot one.
T-shirt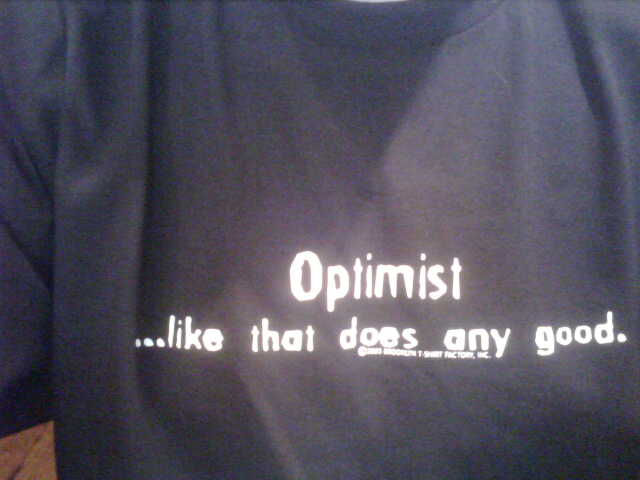 Habit
I seem to have picked up her habit of talking to myself out-loud sometimes. When she does it, it's cute, but when I do it, it's just weird.
Okay
It's 9.8%. That explains a lot.
Whoa!
What's the ABV % of this mother fucker?
Asking
They're still asking me, "Who? Who?" but I don't know the answer to their question.
Who? Who?
There are owls out here. I like owls. I wish I would see one.
Home
Every bar on Earth seems to be closed, so I bought some yummy beers and I'll sit in my garage and watch it drizzle. They say it might storm, but my luck's not that good.