It's supposed to get fucking cold tonight. Of course that's not exactly what the weatherguy said, but I'm sure that's what he was thinking.
Because of the fucking cold and the even more fucking cold (fuckinger?) forecast for tomorrow night, I've made a little bed/house/fort for this stray cat that lives under my deck.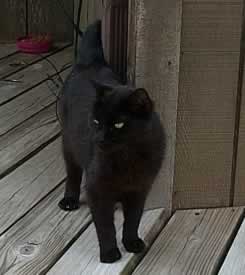 She's just the sweetest thing, but I cannot allow her into the house as I'm afraid that she'll get my cats sick.
Normally I don't worry too much about her, but it's supposed to be so fucking cold for the next two nights that I just had to do something.
I took my cat carrier, stuffed a pillow into it, wrapped it in a beach towel, and put it in my garage. My back garage door I propped open about six inches so Spook (the cat) could enter and leave the garage as she saw fit.
So now Spook is laying in her new little shelter, just purring like crazy when I went to check on her. She's just such a good cat. I wish I could find a home for her.