Whereas on Friday night the Rich O's crowd seemed fairly typical for a busy Friday night, last night's crowd was all Gravity Head.
Standing room only. If you were lucky enough to find a place to stand.
The place had been invaded by a bunch of Daytonese, and they filled every available nook and cranny. It was only through my charm and good looks that I was able to get a spot on the loveseat within an hour after I arrived.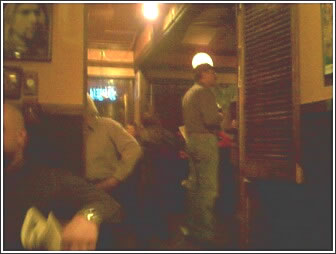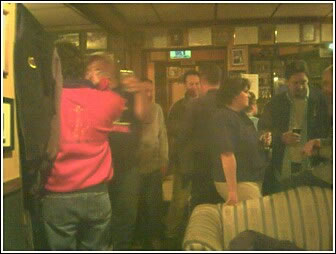 Many of the Rich O's regulars were there as well, crammed into whatever spot they could find (and manage to hang on to) and most of us spent the night exchanging empathetic glances.
As for me, I was pretty much in misery. I don't like crowds. I especially don't like crowds of strangers. I should have left but I'd sort of promised NotGeorge that I'd give him a ride home so I was stuck.
To drink, I had a couple of the NABC Noble Smokers and a Delirium Tremens. The Tremens I had to get from a bottle because the Belgian wave of high gravity beers hasn't started yet. This weekend was mostly about the hops and the stouts. I did, however, manage to have small samples of the following:
Avery "The Beast" Grand Cru
Bell's Batch 6000
Great Divide Oaked Yeti Imperial Stout
Rogue Old Crustacean Barley Wine
Once the Daytonians had left - there were mumblings about skinny-dipping in the hotel pool - CoffeeDude and NotGeorge joined me in the living room area. By that time I'd switched to Diet Coke, but NotGeorge had just ordered a Bell's Batch 6000 so we sat around for a while. It was actually kind of nice to be able to have a conversation. It'd been way too loud earlier. Our conversation consisted mostly of wondering whether ExoticGirl tasted as good as she looked. Neither of us will ever know.
Fairly late in the evening DooRagGirl came in looking all rastafied, and I gave her my sister's e-mail address.
Left at about 12:30, dropped NotGeorge off at his house, and came home.