Okay, I'm back from my Portland trip.
It was, as I'd expected, a very nice diversion, and a welcome respite from the suprisaphobia I've been experiencing back home. Not once, over the entire weekend, did I find myself jerking my head up to see who had just entered whatever room I occupied.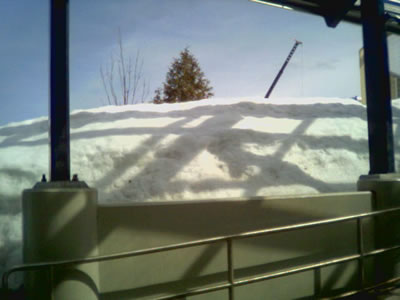 The first thing I noticed about Portland was all the snow on the ground. I know they had a pretty substantial storm a couple of weeks ago, but I guess I wasn't expecting there to be between one and two feet covering all of the grassy areas. The photo above is of a snowdrift next to the ramp leading to the rental car desks.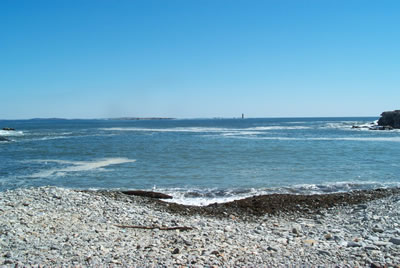 The weather was beautiful - not a cloud in the sky - for the entire time I was there. It was a little chilly - in the high 40s - during the day but there was not much wind so it was quite nice. Above is my first view of the Atlantic Ocean in several years. I was standing in about a foot of snow when I took this picture. Weird.
Also weird was that all of the dry rocks near the water were just covered with buzzing flies. It was like something out of The Amityville Horror.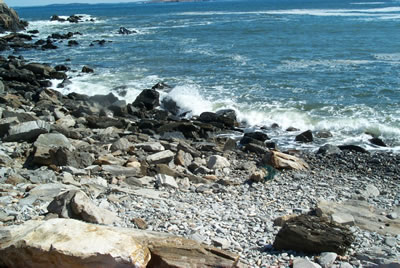 There's just something about the ocean that's always fascinated me. I imagine how the biggest swimming pool, pond, or lake, that I've ever seen would be completely swallowed up by this expanse of water. I imagine how the waves crashing against the rocks could have started halfway around the world. It's just neat. The relative proximity to the ocean is one of the reasons I chose Seattle over Colorado Springs back in 1992 when I was deciding where to move.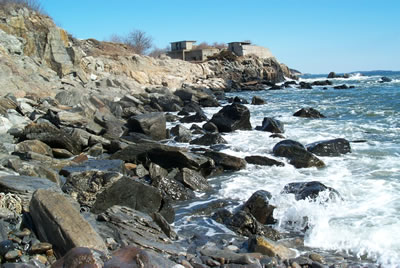 All of these waterfront pictures were taken at a park called Fort Williams or some such. There were a dozen or so of these old structures scattered about. I actually took a lot more pictures but my camera's batteries had given out so they're all dark. I spend about four hours on Friday just exploring the old buildings at this park.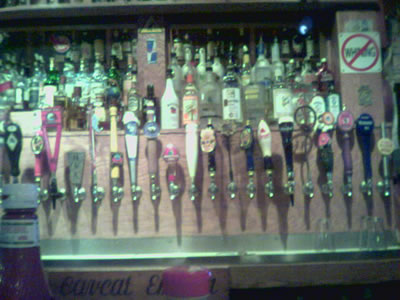 On Friday night I went to The Great Lost Bear, the bar I've heard the most praise about in Portland. I guess I liked it okay. The beer selection was very good, and the layout was something I could see working with a place like Rich O's. I guess my only complaints about the place would be (a) the lack of parking, (b) the crowd, and (c) the food. The latter was greasy and cold - not at all what I was expecting when I ordered seafood in Portland Maine. I guess I should have gone to a real restaurant instead of a bar for dinner.
Anyway, the picture above is of about half of the beer taps at the place. There is another row around that corner to the left.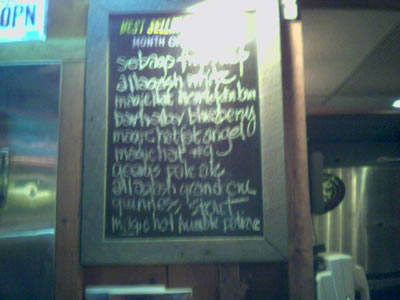 They had a board up which listed, in order, the best-selling drafts for the previous month. I thought that was a pretty cool idea.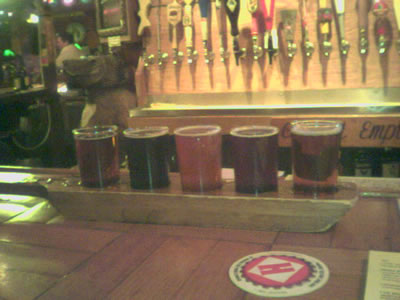 My first beer of the night was a Harpoon Winter Warmer. More on that later. Next I had a sampler tray consisting of five 5oz beers. I took notes on each one:
A decent, but not great, alt beer. Balance favored the hoppy side, especially in the aftertaste. Looked and smelled great, but the taste was a little disappointing.
Yes, Virginia, there is indeed such a thing as too much malt. This beer just needed something to balance it out. I don't know what it needed. It had nothing but malt. Seven different kinds according to the web page.
Atlantic Bar Harbor Blueberry Ale
I had high hopes for this one. Blueberry flavor in a beer would definitely be something new and unusual for me. This actually ended up being my least favorite beer of the weekend. It tasted to me like an IPA. If there was any berry component to the flavor it was too subtle for me to detect it behind all the damn hops.
I told the drunk next to me (he had asked) that I predicted that this would be my favorite beer of the night. I was wrong. The smoke was reminiscent of bacon, or perhaps beef jerky. Probably the only smoked beer that I've ever had that I didn't like.
Creamy and malty. Very good, and I ended up having a second one. The best lacing I've seen in a long time.
My last beer of the night was another Harpoon Winter Warmer. More on that later. Took a cab back to the hotel but I probably didn't need to.
On Saturday, after getting completely lost about a dozen times trying to get to the "Old Port" tourist area of Portland, I gave up and headed West instead. My plan was to drive through New Hampshire and into Vermont. The thing I found out is that even though these states are pretty close geographically to Portland, you just can't get anywhere very quickly. I ended up turning around after about five hours, only having made it into New Hampshire. Vermont will have to wait until another day.
Once back in Portland, having spent a fruitless hour or so trying to find another bar for Saturday night, I just gave up. The streets in Portland are, I believe, nothing more than paved cow paths from the 1500s. They wind around, merging and splitting, changing direction often. It was difficult to go more than a few blocks without getting lost.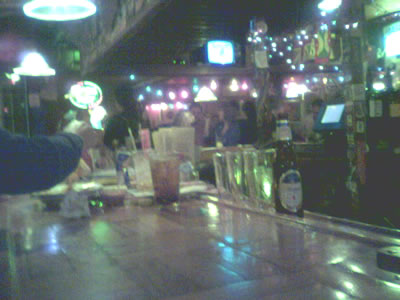 So I ended up back at The Great Lost Bear for Saturday night.
I had another sampler tray, this time with only three beers:
With a name like Smuttynose, it has to be good, right? Right. A very strong chocolate aroma and flavor. Like the NABC Haggisdaddy Stout it reminded me of, this would probably be good poured over ice cream
Sheepscot Valley Bold Coast Pemaquid Ale
Thick but fairly mild. Not sure what I was expecting, but this wasn't it. I got a little coffee flavor and a little butterscotch. No aftertaste at all.
Smelled and tasted like an Alt, even though it's supposed to be an English Stong Ale. The only non-Altish characteristic was that the aftertaste was quite bitter - too bitter for my tastes.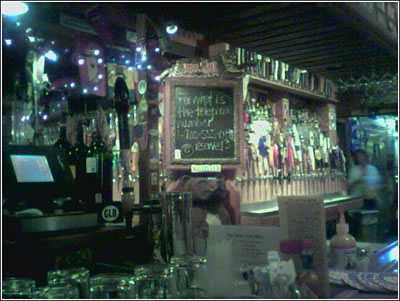 So that was the end of my experimenting. I went back to the one truly great beer that I'd encountered. The beer that I found myself calling CoffeeDude about. The beer that actually made the trip worthwhile.
The web page says cinnamon and nutmeg. I got none of that. What I got was ambrosia. The most unusual beer I've ever had, and it took me a while to pin down what I was experiencing. Copper colored, good lacing, and an actual flower aroma. The flavor was incredibly indescribable, but I'll try anyway. Take a beautiful woman, have her bathe in lilacs and Mr. Bubble. Now perform oral sex on her. That's how good this beer was.
If my work schedule and my vacation pool would have allowed it, I would have extended my stay in Portland just to keep drinking this beer. Hell, I'm already trying to figure out when I can go back next year, when it will be available again. It's brewed in Boston so maybe that city will be my Easter trip next year. I called CoffeeDude Saturday night and asked him to have Harpoon Winter Warmer written on the board at Rich O's for Roger to see.
Anyway, Saturday night there was this girl sitting by herself at the other end of the bar. I heard HotBartender ask her what was wrong, saying she seemed to be in a bad mood. The girl, who I will call MaineGirl, told HotBartender that she was just fine, and that she didn't know why everyone always thinks she's a grouch.
So this girl is apparently my female counterpart in Maine. I ended up talking with her for several hours while we compared tales about how everyone thinks we're so anti-social. MaineGirl, and of course DrunkGuy from Friday night, were the only people I had any actual conversations with all weekend. MaineGirl reminded me of TrainGirl (who is from Maine so I guess that kind of makes sense) and, like TrainGirl, she had no problem at all having a long conversation with someone she'd just met in a bar.
I went back to the hotel at around midnight, slept fairly well, and arrived back home (pouring down rain in Louisville - surprise - not) at about 3:00. VigilanteGirl was in one of her moods, so that made it official. I was back.
The guess the main question (or the Maine question, ha ha) I had before going on this trip was: Would I be able to enjoy my own company without constantly thinking about missing my friends and my established routines? I'd have to say that I did enjoy myself immensely. I think that anytime you return from a trip and wish that you'd had more time that's a pretty good indicator that you enjoyed yourself. I could have spent several more days in Portland.
I will go back again someday.