Before going out tonight, I first had to get ready.
Tonight was going to be the big beer-off between two of my all-time favorites; Rogue Chocolate stout and Upland Chocolate Stout.
I was way too excited over a couple of beers being on tap at the same time, but I'm bottling everything else up and I need to have some outlet for my emotions, so fuck off.
Besides, I take my duties as unofficial Rich O's beer reviewer very seriously. So seriously, in fact, that I had VigilanteGirl help me put together a special uniform for tonight's activities.
Behold me in all my scruffy and/or evil glory: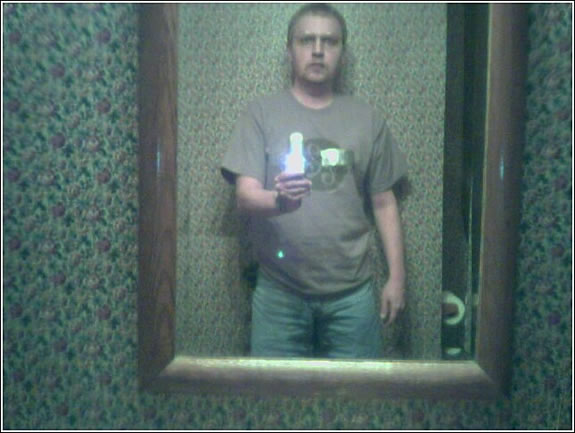 If you look closely enough (not at my crotch you perverts) you may notice a reflective patch on my shirt. This shirt normally says Irish Stout Official Taster on it but tonight, for one night only, the word Irish has been replaced: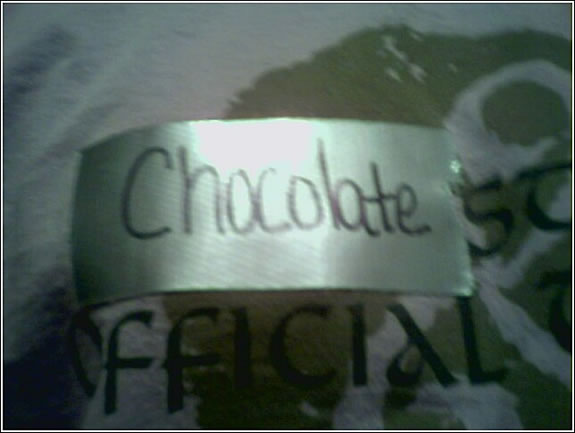 At around 4:30, I called the bar and asked Roger, the owner, if he was going to shatter my dreams again. He assured me that both of my favorite chocolate stouts were indeed on tap.
Having thus confirmed that my mission was still a go, I arrived at Rich O's a little after 5:00 PM. Right off the bat, I checked the board: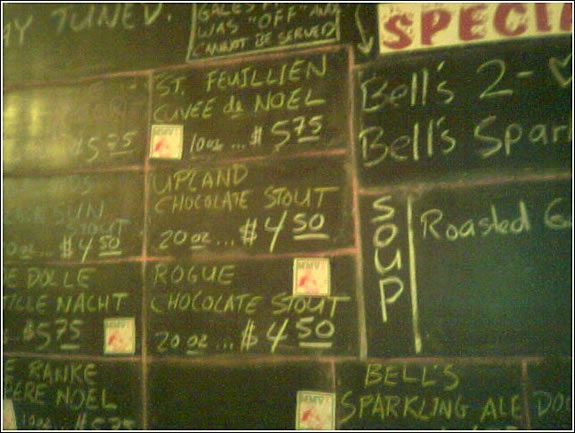 Yay! They were both listed!
Did I mention that I was excited?
Well, I was.
I ordered a half glass of Rogue Chocolate Stout (318) and a half glass of Upland Chocolate Stout (70), which will hereafter in this entry be referred to simply as Rogue and Upland, and I sat in the throne with my beers and my notebook to begin my beer-off.
With both beers in front of me, calling to me, I tried to remain as scientific and impartial as I could. I alternated each beer through each of the following tests:
Color
Upland: Jet Black
Rogue: Jet Black
Conclusion: Tie
Head
Upland: Beige, faded quickly to a thin coating
Rogue: Light brown, lasted forever
Conclusion: Rogue easily wins this contest
Aroma
Upland: Good chocolate aroma, a bit sharp when inhaled deeply
Rogue: Rich and malty chocolate aroma
Conclusion: Rogue easily wins this contest
Flavor
Upland: Dryer than I remembered, with a touch of coffee but mostly a slightly bitter chocolate - yummy
Rogue: Tastes like it smells, rich and malty and chocolately - fucking yummy
Conclusion: Rogue easily wins this contest
Mouthfeel
Upland: A decent thickness, more syrupy than anything else
Rogue: Thick and creamy
Conclusion: Rogue wins this contest by a nose
Overall Winner
Rogue wins in a landslide.
I want to make this perfectly clear: The Upland Chocolate Stout is a fucking fantastic beer. On any night in which the Rogue wasn't on tap, the Upland would almost definitely be my favorite. There's not a damn thing wrong with the Upland - it's just no Rogue. And that's not such a bad thing. I, for example, am no Brad Pitt, but give me a try and you'll keep coming back. Unless Brad just happens to be in the room, then I'm screwed.