After work Wednesday, as I said in my last entry, I went to Rich O's to see RealTainGirl.
Checking the board, I saw quite a few beers that looked interesting. One that I'd never heard of before. I asked the owner to describe it, then tried it anyway:
(draft) I just had a small sample glass of this, as I was not expecting to like it. I was right. Had that dirty sock aroma that I associate with too many hops. It was very watery tasting, but had sort of a thick mouthfeel. Hard to believe that this comes from Rogue.
Because I hadn't expected to like the Rogue, I'd also ordered an old favorite that hasn't been available since this time last year. A pint of Goose Island Christmas Ale (120) went down quite nicely.
There was something strange going on in the red room. Roger was having some kind of private tasting for a bunch of guys in suits. That was odd enough, but the really weird part was that they had a spit bucket! RealTrainGirl and I decided that they were a bunch of pussies.
Since we were enjoying ourselves so much making fun of the spit bucket brigade, I decided to stay for another half pint. At about the time I ordered my Spezial (950) these people came in: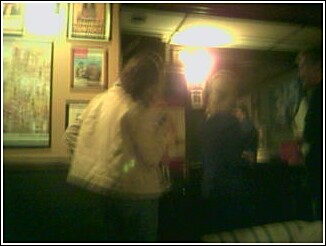 I know, that's a pretty useless picture. That is a picture of a hot girl carrying a microphone, and another hot girl carrying a camcorder. With them, but not pictured, was some dork with a notebook.
They were doing some kind of profile on Rich O's for IUS, the local small college. The hot girl with the microphone interviewed a couple of the after-work PBDs, then she came over and interviewed me for a bit. She could tell that I was interview-worthy because I was sitting on the throne.
I showed great restraint by actually looking her in the eyes instead of at her chest. The concentration needed for this, unfortunately, also prevented me from saying anything funny. RealTrainGirl was clearly disappointed that I hadn't used my camera time to poke fun at the bucket brigade.
See, this is what happens when I forget my rock. I end up on TV or something. If I'd had my rock then it could have been on TV too.