As I've mentioned before, some of my friends are trying to turn Mondays into Gay Night at Rich O's, and I've been named an Honorary Gay for these occasions.
That's honorary only, so you girls just go ahead and breathe those sighs of relief.
Monday was my last day of vacation. I normally don't like to go out when I have to work the next day, but I figured that since I was technically still on vacation, what the fuck.
It was a pretty quiet night. I think that Gay Night might be a bust - most of them have been quite sparsely attended. I drank three bottles of yummy Weihenstephaner Hefeweissbier (413) and talked with SassyGirl, SassyBoy, TacoBell, and LibraryGirl.
I guess SassyGirl's brother is getting married in February. I may go to that, even though I don't know the guy. It would give me something to do, plus it'd be nice to meet some of SassyGirl's relatives. The wedding will be in Eastern Kentucky, right next to West Virginia, so it'll probably be full of redneck clichés and stuff.
Let's see, what else?
SassyGirl took this lovely picture of me.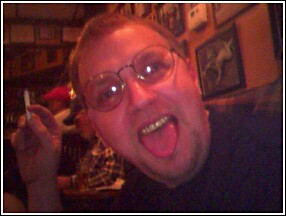 SassyBoy saw a guy out in front of Rich O's that he said looked like me, but I didn't see any resemblance at all, except that we were both wearing glasses. I guess all straight men look alike to SassyBoy.
This one bull dyke came in, but it was just a coincidence- she didn't know about Gay Night. Her girlfriend was a very hot brunette though. I thought about asking her to put on my glasses, but I was afraid that the bull dyke would beat the shit out of me.
On a completely unrelated note, I've deleted VigilanteGirl's information from my cell phone's memory.
On another unrelated note, HatGirl was a no-show (she's another Honorary Gay) so that sucked.