Friday night after the game I hailed a cab and took it to this Growlers place that I'd heard about.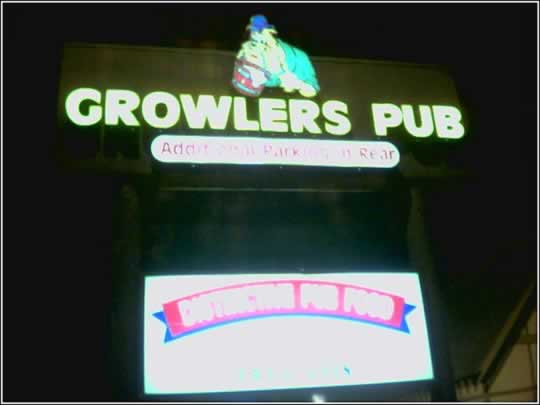 It's easy to get to: You just go to the Moon and then take a left.
That means that it's pretty far away from downtown. The cab ride cost me forty bucks with tip.
Anyway, I did something kind of stupid, but there was just no way I could have known.
I sat at the bar.
There was a constant crowd of people standing all around me, leaning all over me as they tried to get the bartender's attention to order their drinks. I got extremely claustrophobic and I actually started regretting my decision to come to the place.
But I had to justify that forty buck cab fare, so I drank.
The place has a pretty impressive beer menu, both in selection and in price. The selection part is a good thing. The price part is not so good. They charged $8.50 for a bottle of Delirium Tremens. That's just ridiculous.
But I wasn't going to be drinking bottled beer anyway, so no skin off my back. I checked out the draft selections. There were maybe 30 beers on tap, almost all of which I've had before at one time or another. There was nothing that really jumped out at me, so I just had myself a Newcastle (1856).
The place was a freaking madhouse!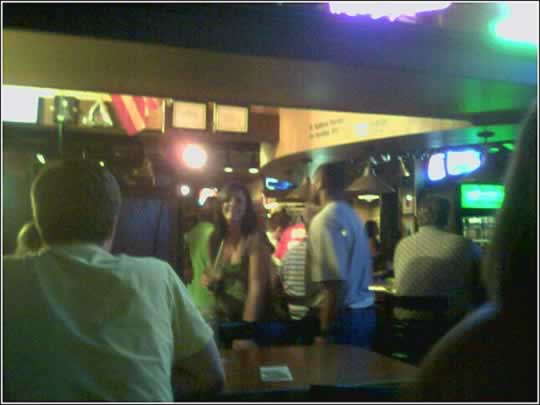 While I had my Newcastle I kept looking around for a more private place to site, and eventually one of the tables opened up, so I hightailed it over there. I had that table to myself for maybe five seconds before three people joined me. I'll call them OriginalDude, PlayaDude, and SweetAssGirl. These three ended up being my companions for the rest of the evening.
My second beer was a Fat Tire (105). I hadn't had this in a long time. It was good.
The three of us sat around for a while and talked. They all knew each other but obviously they didn't know me. I told them about my Easter trip custom and shit like that.
My third beer was another Fat Tire (125).
Here's the view from where I was sitting. Those are barrels up there. It's kind of hard to tell though.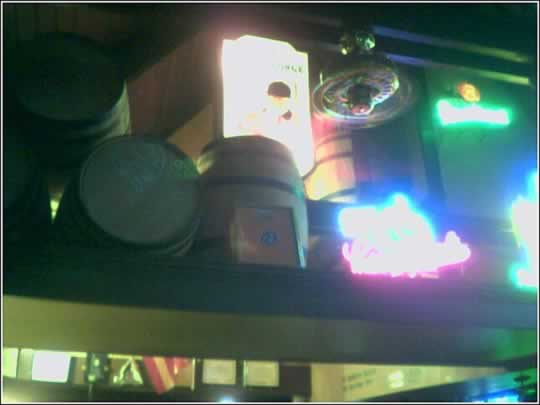 So, as near as I can figure it, OriginalDude and SweetAssGirl have been friends for like their entire lives. OriginalDude is clearly in love with her, but SweetAssGirl is either clueless about that fact or she's just choosing to ignore it. She actually spent most of the night either flirting with me or with PlayaDude.
Towards the end, PlayaDude was falling victim to SweetAssGirl's charms much more readily than I was, so I spent most of my time talking with OriginalDude.
My fourth beer was a Guinness (1217).
At one point these four chicks joined us. I think they knew SweetAssGirl and OriginalDude from before. One of them was quite pretty - she actually looked a lot like this girl.
Oh yeah, I had myself some very yummy blackened chicken quesadillas.
My fifth beer was a Diet Coke. I cut myself off after that Guinness.
I guess Missouri must have some draconian blue laws in place, because the place was still packed as shit when they did last call and eventually kicked us all out.
The cab back to the hotel cost me another forty bucks.