This entry brought to you by Rogue Chocolate Stout: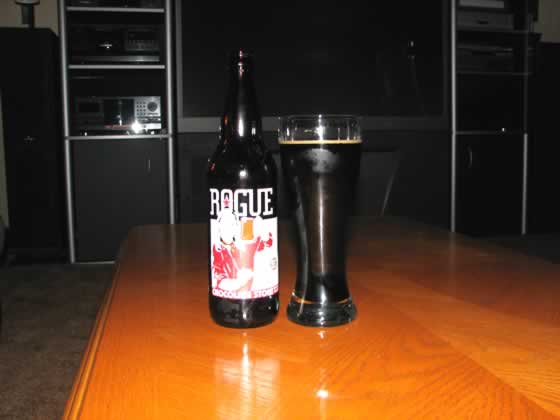 So I'm clearly losing my grip on reality here.
Not that it was ever that tight to begin with, but I can feel it slipping away from me a lot more lately.
Eventually it will slip away completely, fall to the ground and shatter at my feet. Probably cut me and give me tetanus in the process.
I have such a convenient memory. Such a nice fancy pair of rose-colored glasses. Such a fucking idiotic way of seeing only what I want to see and completely ignoring anything that doesn't fit into these delusions that I use instead of hope.
I should be dead, you know. For a while I thought that the fact that I'm still alive might be a sign that I'm actually getting better. That maybe this long dark Winter was coming to an end.
Hell, I've even managed to convince myself, for short periods of time, that it was all nothing more than overblown hysteria.
But then I look at this picture that I've found. To be fair, the resemblance is fucking uncanny. Her own mother would look at this picture and smile because her daughter looks so pretty in it.
Problem is, it's not her daughter.
It's nobody at all. Just a pretty girl. Just a pretty brunette with glasses who would completely freak out if she knew that, right now, I'm looking at her picture and my eyes are filled with tears.
It's not her I'm looking at. It's not her I see. I'm looking at a fake. An imposter who from that angle, under that lighting, with her expression just that way, coincidentally happens to look like someone else.
But do I care that she's a fraud? Fuck no. My mind won't accept the truth enough for me to care.
That picture is the best link I have to a past that never really existed. To a future that will never happen. I guess it's fitting that it's a fake.
Besides, Beggars can't be choosers, right?