The hard part about writing this will be remembering what the fuck I had to drink.
But wait!
I wrote it all down!
So I guess the next hardest thing will be remembering who all showed up.
But wait!
There are pictures!
Maybe the hard part will be writing something that does justice to how much fun I had. Especially since I don't have much time to write anything. I've got to go to my sister's wedding reception before too long.
Oh, and I must buy cat food first.
For my cats, not for the reception. How white-trash do you think we are?
I took a day of vacation Friday, mainly to make sure that I could get my sleep schedule back on track, but also to play the new Half Life 2: Episode One game. I managed both feats, so it was worth it.
I left my house at about 5:30 and stopped by GasNStuff for some provisions.
VigilanteGirl was there!
Yay!
I hadn't seen her since she left for her new job, and I actually hadn't seen too much of her in the weeks before that. She's as pretty as ever. I invited her to DaveFest though I knew very well that she wouldn't come. It was nice to see her though.
Went to Wendy's for dinner, passing up the haunted Burger King because I didn't want my mood to be spoiled. Plus, I like Wendy's. So there.
I got to Rich O's very early for me, at a little after 6:00. My first evidence that this whole thing is real and not some kind of sick joke was the front door: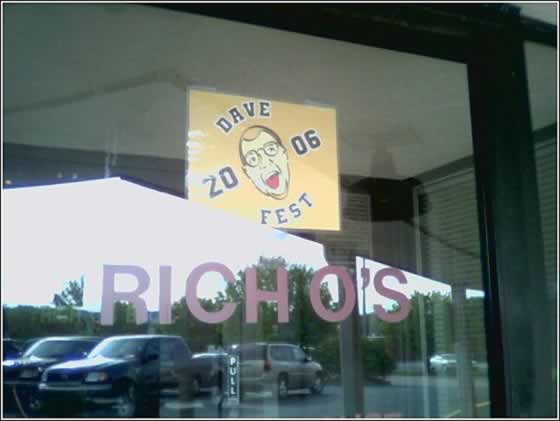 They probably scared some customers away with that sign.
The next evidence came in the form of the beer board: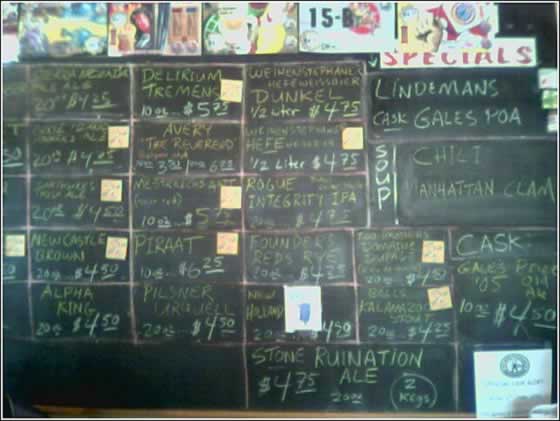 The DaveFest beers are the ones with the logo next to their listings.
Finally, this is the sign that announced that the living room area was reserved for me and my group: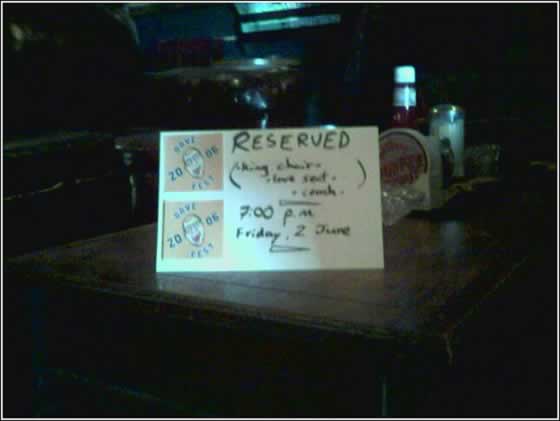 Now, having 10 of my favorite beers on tap at the same time presents a bit of a logistical problem. Especially when I start drinking before 7:00. I knew that I'd have to really pace myself if I was going to make it through the night. So I resolved to only have half-pints, and I also resolved to start out with the lower alcohol selections.
Accordingly, my first selection was a Two Brothers Domain DuPage French Style Country Ale (210), or "that frenchy beer" as I like to call it, just to save time. I hadn't had this in a couple of years. It was yummy of course. As good I remembered.
(to be continued)