(Today I went and found myself a mall and bought myself a power adapter, so I'm free to type away. But, since I'm typing into this tiny laptop keyboard, I cannot be held responsible for any typos. I apologize for any inconvenience this may cause.)
People that don't know me very well, people that perhaps only know my online persona, they might think that they know why I chose Cleveland for this trip. "It's the baseball," they might say. Or maybe, "It's gotta be the lake and the other scenery."
Wrong and wrong.
Other people might guess that I picked this city because of the Great Lakes Science Center or other cultural crap.
Again, wrong.
All of that shit did play a part in my decision, but the real reason, and the only reason that could have stood on its own merit - is the Great Lakes Brewery.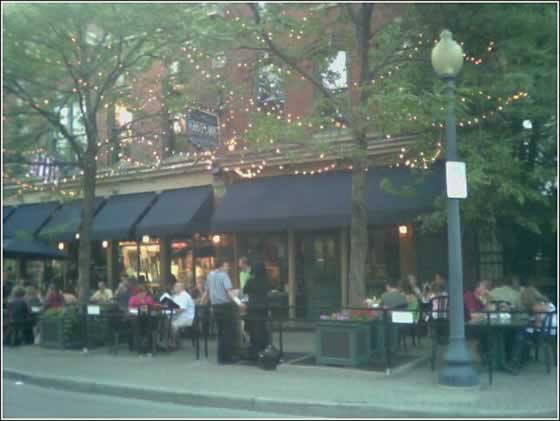 I took a cab to the place, though as it turned out, it was probably within walking distance. I took a few notes which I will now transcribe:
Patio area outside, packed as fuck. Not a good sign. The bar area inside, also packed. But wait! There's another section upstairs! Also packed. Shit. But wait again! There's yet another area down in the basement! Fuck, it's packed too, but I manage to cram myself in next to a guy that looks like ExBartender from Rich O's.
I figured that, as long as I was there, I'd have some beer.
Great Lakes Market Street Wheat (16)
(draft) Almost overpowering aroma. Flavor was good, but much more subdued than the aroma had hinted. The head disappeared almost immediately. Zero fizz.
Great Lakes Holy Moses White Ale
(16)
(draft) Smells and tastes more like a German than a Belgian wheat. As a German, it's quite good. As a Belgian, it's a little musty.
Great Lakes Elliot Ness
(6)
(draft) No aroma to speak of. the taste and the mouthfeel reminded me of a dopplebock more than anything else. Not worth a full glass.
Great Lakes Edmund Fitzgerald Porter
(64)
(draft) I've had this before, but I don't remember what I wrote about it. Right now I want to write "yummy and roasty."
The main thing about the place, aside from the beer of course, is that it's completely non-smoking. I think that the main effect that this kind of policy has on me (aside from the occasional urge to murder everyone) is that I drink very quickly. I mean, I had all of the beers listed above in one hour. Somebody should do a study on this type of thing. Instead of drink, drag, drink, drag - it was drink, drink, drink, drink.
So by 8:30 or so, I was ready to leave. I was also half-shitfaced. I'd been talking to the bartender and she'd recommended this Bier Markt place around the corner. "They allow smoking," she said, "and they specialize in Belgian beers." Once my erection subsided I bought a souvenir t-shirt and walked out to find my Mecca.