The place was packed. There are three dipshits taking up four spaces at the bar, and there's an old couple eating at the island, and UplandWheatDude is in the living room with some dipshits. I ordered a Delirium Tremens (650) and asked the old people if I could sit with them as long as I promised not to bother them. They agreed, but before I could sit down the living room people invited me to join them. Against my better judgment - such as it is - I went and sat on the loveseat next to some drunk fucker.
After a couple of minutes I picked up my shit and moved back to the island because the various drunk dipshits in the living room kept trying to talk to me.
(Edit: I do not include UplandWheatDude among the annoying dipshits. He's a good guy.)
---
I hope these old people leave before they try to talk to me.
---
These things in my head, these thoughts and memories and inklings - I wonder how many of them are real and how many exist simply to hide the truth. Or to impersonate the truth. I'd like to believe that there's some truth on the surface of me, but sometimes I can't tell. And I've surprised and shocked myself so many times that I don't think I trust myself anymore. It's not the best feeling I've ever had.
---
Fuck I wish these people would leave. They paid their tab 30 minutes ago and they're still sitting there yakking at each other.
(Update: Fucking finally!)
---
Oh shit! I just had an awful idea. What if that one loud bitch is that one dude's new girlfriend? If so, I may vomit.
---
Okay, this was messed up. You need to look at the map I guess.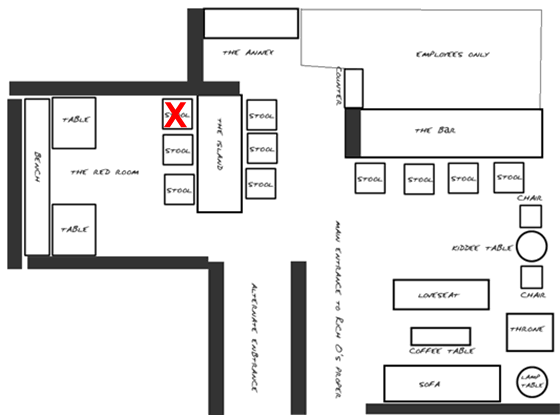 After the old people left I moved to the spot marked with the "X." A few minutes later, a guy and a girl came in. They sat in the two spots next to me. What made this weird, what made this strange, what made this incredibly fucked up, what totally creeped me out was that - get this - the other side of the island was completely unoccupied! This creeped me out, like I said, and so I picked up my shit and moved back to the living room. Once I got there, people once again tried to talk to me, but that was nothing compared to those two freakazoids sitting right next to me.
About an hour later WomanRepellant came in. I offered him 5 bucks to go sit at the "X" seat. He was going to do it but there was a chick that distracted him and so he ended up sitting across from the freakazoids instead.
---
To write that last section, I took my second Delirium Tremens (660) and moved to the kiddie table. I don't feel like moving back.
---
Some people insist on talking about politics and religion in here. Some people suck. In many cases, these two groups overlap. Coincidence? I think not.
---
FutureDude is funny.
---
Hot girl alert!!!
---
I just figured out why I hate this one fucker. He's a pretentious asshole, but there are a lot of those around. But this guy is also an ass kisser. It's a pretty powerful combination.
---
Oh boy, I get to listen to CoffeeDude tell The Story Of His Home Roaster again.
---
What sucks about tonight is that the place is full of fakers. I find myself painfully aware of SassyGirl's impending departure. She'll join LaptopGirl and Spikeboy in the group of people who used to make this place worthwhile for me, but then moved away or otherwise stopped coming in. HatGirl doesn't come in often enough to make a difference. Neither does DooRagGirl. Once SassyGirl leaves I think that I'll have one friend left here.
---
Sure, there are plenty of people who I like just fine, but none of them are like me. There's something fake about every one of them.
---
Plus, a lot of them are just incredibly stupid.
---
I could probably do another Tremens, but it's Diet Coke time for now.
---
I probably shouldn't say this, but last night was the best night that I've had in a very very very very very long time. Maybe the best night of my life. So there.
---
I am stupid.
---
I wrote that I was stupid because I was 0 for 3 on returned calls tonight. But right after I wrote that HatGirl called me back. So now I'm 1 for 3. I'm still stupid though.
---
Weihenstephaner Hefeweissbier is back on tap! I'm ordering one, but I probably won't drink it all (1463).
---
After that, I quit taking notes because HatGirl came in.
HatGirl!
Yay!
It was very nice to see her after so many millions of years. We ended up closing the place down together.
Then I went to White Castle and then I came home.