Two fucking fifty three. In the morning.
I'm so tired. I've got so much crap to do tomorrow. I've got to work early Sunday morning.
Basically, I'm fucked.
I won't get anything done tomorrow before I go to my nephew's graduation party. I won't be able to get to sleep after the party, so I'll go to Rich O's or something. Then I'll be up all damn night until it's time to start work.
That's when I'll suddenly get tired.
Anyway.
Tonight was kinda fun. I got to Rich O's a little after 8:00. Had a Dirty Helen (122), then TremensGirl and I split a bottle of Allagash Grand Cru (63), then I had another Dirty Helen (142). When I first arrived, NotHideousGirl was there at the island with OddlyFamilarGirl and MusicalYuppieDude. I joined them for a while, but eventually I moved to the living room for my Allagash. It was a little strange to have to share NotHideousGirl with a group. I've become accustomed to having her all to myself during our lunches. I guess I've been spoiled. As has she.
After a while, ArtGirl came in, and I pretty much spent the rest of the night waiting for opportunities to talk to her, and then taking full advantage of those opportunities once they arose. Had her completely to myself for an hour or so at one point, then we moved to the red room and sat with some people there. That's why I was out so damn late. I wanted to leave, but ArtGirl was totally kidnapping me and keeping me trapped in the corner. But it wasn't so bad. She's warm. She's pretty and nice. So of course she has a boyfriend.
ArtGirl and I not only closed out Rich O's, we stayed almost three hours after closing. Not even during the days of LaptopGirl have I ever stayed there so late. I felt pretty guilty about it, but one of the owners was right there with us, so I guess it was okay or she'd have kicked us out a long time ago.
Man, I need to get some sleep. I'm rambling.
---
Oh gee wowie zowie. I managed a whopping four hours of sleep. Damn circadian rhythms.
There's some shit I forgot to mention about last night.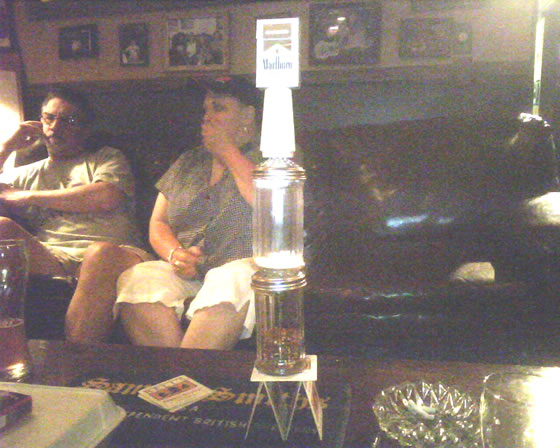 At one point this one dude and I were talking about mechanical engineers. Specifically, we were talking about how much they piss us off by being so damn smart. I mean, a mechanical engineer could have told us whether our little tower was stable without having to build the thing.
At one point I found myself back at the island with MusicalYuppieDude and PillowDude and PorterBob. They were sampling some beer. I had a very small sample myself.
(bottle) Black with nice brown foam. Aroma of roasted malts and not much else. Flavor of roasted malts and not much else. Quite a bit of malt bitterness at the finish. Everyone around me was raving about how great this beer was, but I didn't share their enthusiasm. Decent, but no better than that.
Also, at the very end of the night, I was sitting with ArtGirl and OddlyPrettyGirl in the red room, and there was a half a Smithwick's there, so I drank some of it (1658).
ArtGirl asked me how old I am, and for some reason I told her. When she didn't run away screaming, that earned her some points. Not that she needed any more points.
I also found myself writing down my website address for her. I don't know why I do crap like that. Now she might actually read some of this drivel. Just in case, Hi ArtGirl!