Finally
I didn't want to be mean, and I didn't want to be nice. Both would have been very, very bad. So I did what I could. I left. Finally.
Aaaaaaaaah!
I'm starting to freak out!
Thursday
Got my tax extension filed. Now off to meet with SassyGirl!
The night glows...
...from the dying embers of a million dreams.
Stupid
Having this stupid little daydream. It's fun, as long as I remember that it's stupid.
Flash
I've now seen my first lightning bug of the year. Yay!
Outside
If anyone needs us, we'll be in my garage. Maybe forever.
Excited
Home now. Excited about my big date with Baltika later!
Glaring
I'm at Rich O's. I don't know why. HatGirl isn't coming, I don't think.
Brrrr
I switched my A/C on before I went to bed, but I forgot to adjust the thermostat. Now it's 65 degrees in here.
Tired
I probably won't sleep, but I've got to try.
Ugh
Still awake. No relief in sight.
Worried
So, someone texted me that she'd "got the rapth." I don't know what that means, but it sounds bad. I hope it's not contagious.
Hey
I don't know if you read this or not, but if you do, PLEASE MIND YOUR OWN BUSINESS!!! How many times do I have to ask this of you?
Clarification
Missing someone does not always equate to wanting to see them. Not always.
Weird
Stop staring at me, you weirdo!
Shame on me
Feeling guilty...
Pbbbbt
Well, it's official now...
Now
Now I'm home. I wish that I wasn't.
Wishing
I wish things were different. Just for one night. It could be awesome. So there.
Waiting
I've realized that I have something to look forward to, in 17 years.
ArtGirl!
She is here!
Craving
Craving Delirium Tremens, so I guess that means it's back to Rich O's for me.
Out
There was a light at the end of the tunnel, but I can't see it anymore. Did it go out, or is it night outside?
Yuck
I'm trying a Strawberry-Kiwi V8 Splash. It's really gross.
Wow
I actually had some crap to write tonight. But then I got really really really tired, so I'm going to go to sleep instead.
Tempted
If I go, I'm going to be soooooo tempted to just stay there.
Amazing
It's amazing how stupid I can be sometimes.
Croisez vos doigts
Je pourrais aller a Paris!
Rattle?
Rattle rattle rattle...
Buddy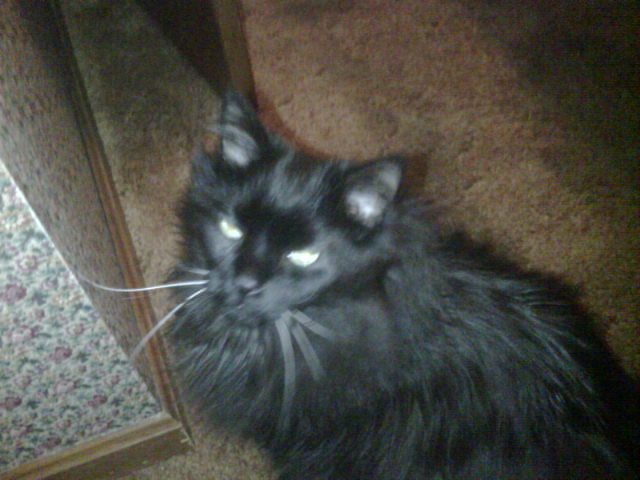 Restraint
I don't have any idea what to say, or I'd almost certainly say something.
Nitey nite!
Just wake me up when this bullshit is over.
Dream
I had a really nice dream earlier this morning. I'm hoping for another one tonight, though I realize that nice dreams are quite rare lately.
Problem
The problem is, without trust, there can be nothing else.
Waiting
Did my good deed for that day. Now sitting at Rich O's waiting for karma to reward me.
Hoping
Hoping that whatever HatGirl has goes away soon, and that she didn't give it to me.
Zzzzzzzzzzz
Managed a whopping 15 minutes of sleep before I had to get up to meet HatGirl. Now I have a few hours, so I'll try to sleep again.
C'mon...
...do something crazy and impulsive.
Idea
Let's go somewhere. I'm thinking Key West. It would be fun.
Up
I shouldn't be up. I have to meet HatGirl in less than seven hours. I should be asleep. But, I'm not. I'm up. Still.
Sticky
Now my fingers are all sticky, and it's not from anything fun either. Okay, maybe it was a little fun.
Brrr
I wish it was warmer.
Huge
I have a huge blister on my finger, and it's not even from doing anything fun.
And...
...his mother. Dammit.
Missing...
...a little kid.
Pushing my luck
Come on, seven!
Waiting
I'm excited about tomorrow, and hoping that it doesn't go horribly wrong somehow.
Thursday
Not having any fun. Nope, not having any fun at all.
Favor
Do me a favor, don't ruin my dreams tonight like you did last night. Thanks.
C'mon already
This is the slowest line of storms ever!
Dammit
I miss you too.
Never
I never ever thought we'd end up like this. I always thought things would get better, not worse. This really sucks.
Stupid
Now I'm keeping my distance, so to speak, so we won't be accused of something that we're not fucking guilty of anyway.
Grrrrrrrrrrrrrrrrrrr
That is all.
Yes
That's the answer. Now, ask the right question...
Left Hand St. Vrain
(draft) Clear yellow. Head faded quickly. Aroma typical for the style with a little mustiness. Mild flavor of apples, with a hint of alcohol burn at the finish. Does not taste like it's 9% ABV. Decent.
Yay!
Going to Rich O's to meet up with SassyGirl!
Waaaaaaaaaaaaaah!
There, I feel better now.
Waiting
Just waiting for my day to officially start.
Whatever
I can't even remember when I last slept. I guess that means that I'm way overdue. Goodnight, cruel world...
To-do list
Think for a second. Be honest with yourself for a second. Be subjective about yourself for a second. Open your eyes for a second.
Pbbbbbbbbt...
Grrr
Giving up. Going home.
Beffie and Dustin and some other people at Rich O's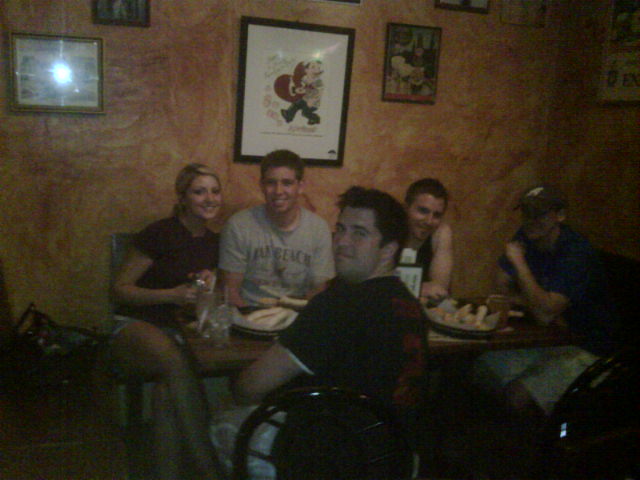 Stupid
I'm being stupid right now, as evidenced by the fact that I'm still here.
Dammit
Dammit dammit dammit dammit dammit dammit so there!
Faker!
Some faker has a car identical to HatGirl's. I was excited to see her, but a little miffed that she hadn't let me know she was here. Now I'm back to nothing.
Counting
At Rich O's, counting my blessings. Got to two and now I'm stuck.
Okay
That was fun.
Ugh
Forced myself to get up at 9:30, after only four hours of sleep. Now, if I can avoid taking a nap today (doubtful) then maybe I can go to bed at a normal time tonight.
Fun
The neighborhood dogs and I are barking at each other. I bet there are ten of us, within a half mile or so of each other.
Back
I went inside for a bit. Now I'm back in my garage. It's so nice out. I seem to want to be sad tonight, but I can't quite manage it.
Fake
It's blustery, like it could storm any minute, but there's hardly a cloud in the sky.
Time
Well, the forecasted storms never showed up, but I'm still having a nice night in my garage. Time to open the growler, I think.
Weirdest
I miss her so much.
Weirder
Garry Shandling just bummed a smoke from me.
Weird
Now I'm at Rich O's. Weird, huh?
Quagmire
I've been thinking a lot about this, and I can only think of one solution. I don't like it, though.
Hmmm...
I think it just became ridiculous...
Habit
Sitting in my garage, glaring at my phone out of habit. It's still really warm out here. I love it!
Dammit
Fighting the urge...
Resemblance
That chick that looks like that one bitch is here again tonight. It's still not her, though.
Baseball
I think I might get into baseball again this year. It used to be a lot of fun, being a fan. And it's not like I've got anything better to do.
Stupid
I've got to leave my stupid house and see if there's anyplace open. I'm starving to death. I guess I'll check stupid Jack's, too, but they're probably closed. Maybe stupid Sluttopia is open, but I think they were closed last year. I suppose I should just check stupid Bearno's first, because they're so close to my stupid house. I wish I didn't have to eat, so I didn't have to go anywhere. Stupid stomach...
Wondering
I feel like having some social interaction. I wonder if every place in the world is closed.
Whew!
I dreamed this morning that it was snowing like crazy. I'm so glad it was just a dream.
Fun!
We're watching a baseball movie marathon.
Fun
It seems like it'll be a good night to be depressed. Yeah, that should be fun.
Yay!
I'm not letting the rain get me down. I still get to see HatGirl in a couple of hours, we'll just have to eat indoors.
Useful
I got to be useful to someone I really care about tonight. That was nice, because I was feeling pretty useless before that.
Ugh
There's one sight that I definitely will never get used to.
Climb every mountain
Going to Rich O's for a couple of hours. I might even put on clothes first.
Finally
I got eleven hours of sleep, so I think I'm finally caught up.
Dammit
When, exactly, is this supposed to start getting easier?
Nice
It's so nice outside. I'm sitting in my garage, drinking a Cone Smoker and watching for stobors. I wish I had some more beer, but I'm out after this glass.
Weird
I'm sad about the end of my fake marriage.
In my defense...
Nobody is allowed to be mad at me for this. If you got fooled by something this outrageous on April 1st, then it's your fault.
April Fools!
All good things must, as they say, come to an end. StupidGirl and I had a lot of fun with this, but now it's time to go back to reality. Boring old reality.
Yay!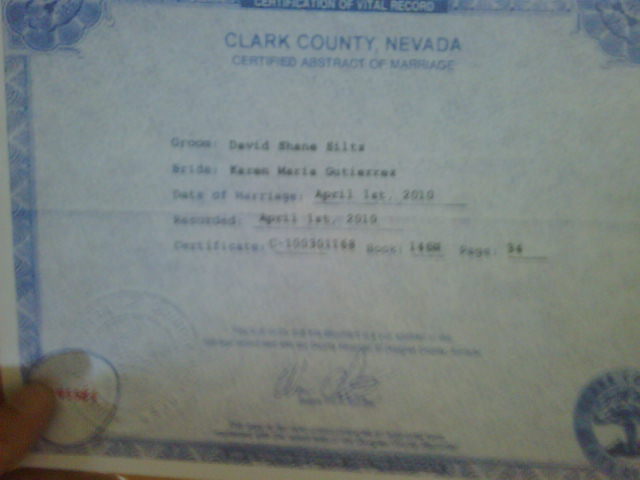 Landed 20 minutes early! Excited!
Expensive
Internet on the plane. Expensive, but it's working very well. What a world we live in.
Cincy
No turning back now, even if I wanted to. Which I don't.
Wow
I can't sleep. I don't want to sleep. I just want to go, right now.