Okay, so this will be quick because I don't really feel like writing anything right now. Maybe I'll come back tomorrow and add some stuff. Or maybe not.
Friday I had one of those fucking nice and pleasant evenings at Rich O's. Boring boring boring. I'm pretty sure I had a Corsendonk Christmas Ale and a couple pints of Guinness.
On Saturday my sister Dina had arranged for several family and friends to meet up at Rich O's to help usher me into my forties. It was supposed to be a surprise but I ruined it by showing up early, plus I'd already had my suspicions when Dina called me a week before to ask what my Saturday night plans were. I ended up leaving and then coming back in so I could let them surprise me.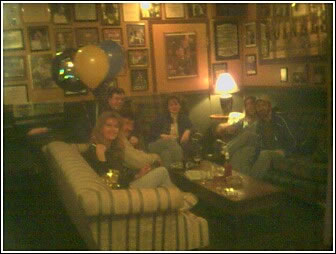 From left to right: Dina, my old friend Eric, Dina's fiancé Kenny, Eric's wife Terri, my sister Neisha, and her husband Chris.
Making later appearances were Dan "Holy Shit" Kruer and his lovely wife Kris. CoffeeDude also came in but I don't think Dina had a hand in that.
My first beer was a Piraat, back on tap after a long absence. After Dan and Kris had arrived, and Eric left the kiddie table, I moved over there and spent a while talking with Terri about books and the intriguing fact that she has single sisters.
CoffeeDude had been recommending a Goose Island Honkers Ale so I had one of those.
(draft) A great beer for starting out an evening, yet interesting enough to make an entire session out of it. Smooth and malty. Tastes like it should have a higher ABV.
Once Terri had relinquished the throne I moved there and had a Guinness in honor of LaptopGirl, who was of course still absent physically but was nevertheless present in my thoughts.
Also in my thoughts were TrainGirl, gone for months now, and MisundersoodGirl and RealTrainGirl. MisunderstoodGirl is not working there anymore so I fear that I won't see either her or RealTrainGirl very often. Oh yeah, NotGeorge was supposed to be there but was a no-show. He'll be pretty bummed when I tell him that Dina was there.
For my final ceremonial beer of the night I had an Alaskan Smoked Porter and, once everyone else had gone home, I found myself sitting nearly alone with CoffeeDude as the big and little hands met at the top of the clock behind the bar.
So I began this new year in my life as I'd spent most of the previous one - sitting at Rich O's talking with a good friend and enjoying a good beer.