(I'm putting this in the travel category because I kind of felt like a tourist.)
Saturday night I was irritated. The girl at the Gas'N'Stuff had put me in a bad mood, and I never really got a chance to improve my mood because my fucking phone kept vibrating.
That's how my Saturday night went. Pleasant conversations at Rich O's interrupted every half-hour by MixedSignalGirl calling or texting me about how pissed she was at me for what happened in Las Vegas.
Because I'm such a selfish asshole, I didn't return any of the calls until this morning.
Because I'm not a complete selfish asshole, I called her right after I woke up.
To make a very long story short, we agreed to meet up at this place called Sully's for dinner so we could, once again, hash things out and, once again, decide that we are completely wrong for each other and/or our timing sucks.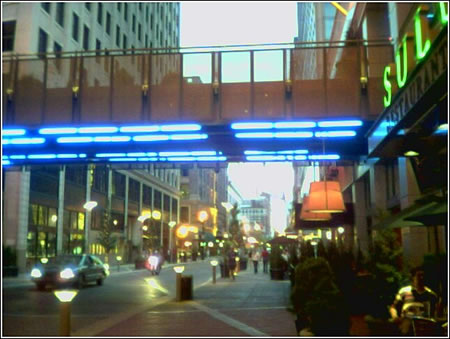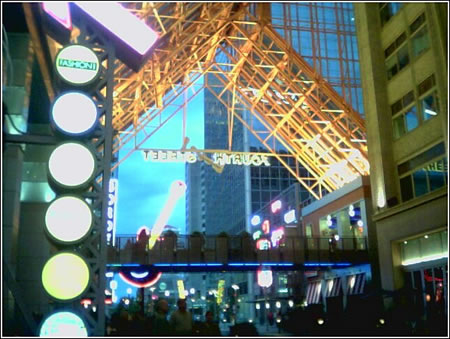 LaptopGirl used to call this place Fourth Street Dive but I actually kind of like it. It reminds me a little bit of Fremont Street in Las Vegas. There are good bars and lots of neon. Pretty damn cool for Louisville if you ask me.
I arrived at Sully's about five minutes late, and had myself a Smithwick's. I'm really really starting to like this beer. It just goes down smooth. I feel like I could drink it all night.
I like the layout of this Sully's place. A long and narrow room with a bar running the length of one wall and tables and booths for eating scattered about. The entire wall opposite the bar was glass so we could see out into the street.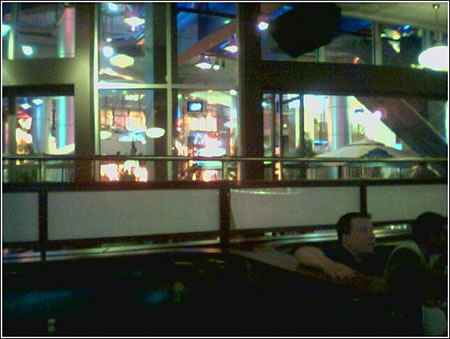 MixedSignalGirl arrived about a half-hour late, and I suppose I should say that if she was late because she was busy making herself up, then it was worth it. I've never seen her look so pretty.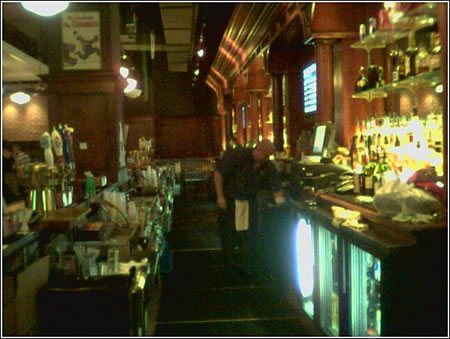 So despite the near-frantic calls Saturday night, she decided tonight to completely ignore the burning issue of her being pissed and we proceeded to have a fairly standard date. I had a burger and fries that were very good and she had some chicken fingers and fries. We mostly just talked about how cool the bar and Fourth Street Live was, and how it'd be nice if they did something like it in New Albany.
Eventually our conversation became more serious and I'm not going to get into it here except to reiterate what I told her, more or less:
I'm very sorry that you were hurt. I've never meant to cause you any pain at all. I really didn't think you'd care. We broke up months ago, and you told me you were doing fine. I told you that I wasn't ready for a relationship, and that's still true. What happened in Las Vegas was a simple one night stand. I don't even have her number, and I don't expect to hear from her again. It was not about you, or because of you, or in spite of you. I wasn't about anyone. Just two people that happened to hit it off and decided to enjoy each other with no strings or baggage to worry about.
During all this I had myself another Smithwick's. MixedSignalGirl was drinking some foofoo thing that was green and brown.
Once we left Sully's we went briefly to the Red Star Saloon and then into the Hard Rock where I bought us t-shirts, then we went to this place called The Pub.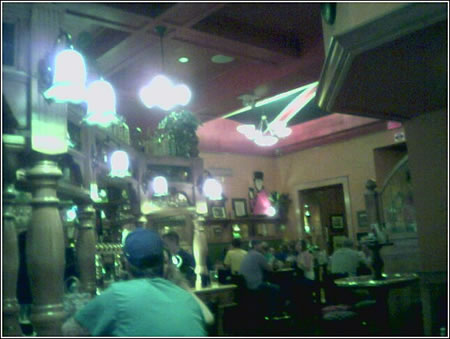 This was another very nice bar. They also had a pretty impressive draft beer selection. I had myself a four-beer sampler:
(draft) No head at all, but somehow managed to have very good lacing. A hint of caramel in the flavor. A slightly lagerish finish but not too fizzy. Not bad at all.
Young's Double Chocolate Stout
(draft) Good head, good lacing. Subtle chocolate aroma and more subtle chocolate flavor. Nothing else to distinguish it at all. It did kind of grow on me though.
Black Sheep Monty Python's Holy Grail
(draft) No head. No aroma, No flavor. A very dry and fizzy mouthfeel. Probably good for an upset stomach but little else.
(draft) Good lacing. No detectable aroma, flavor, or aftertaste. There was just a hint of bitterness that faded before swallowing was complete. Not bad, but very boring.
So the beer, while new to me, turned out to be pretty boring. I'd like to try the Young's again someday though. It was intriguing. This place had at least a half-dozen other beers that I've never seen on tap at Rich O's, but I think most of them were IPAs so I wasn't interested.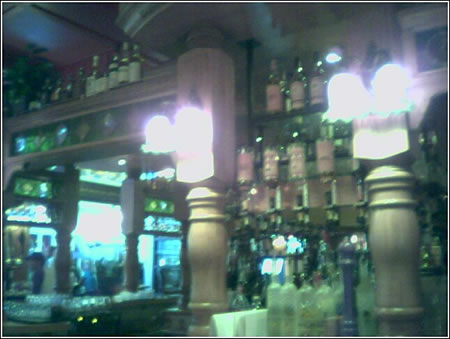 At The Pub I bought another t-shirt. The staff was all wearing shirts with the bar's logo on the front and different bits of English culture on the back:
Bollocks!
Abbey Road
Another pint, love? (Something like that anyway)
Piss off! (I really wanted this one)
Wanker! (MixedSignalGirl made me get this one)
We ended up having a pretty good night together, getting along great. That was never our problem when we were together. Our problem was that at different times one or both of us would have our minds someplace else or with someone else. We were always just using each other as placeholders, as safe havens against the unknown, as crutches to help us get through the tough times.
Tonight, we said goodbye and once again went our separate ways. I hope I managed to smooth things over a little. I think I did. She's very sweet, and her feelings are important to me. It's just that, like I've said before, those things she sees in me are not meant for her. In the end, I have to be true to myself. I cannot lie my way through a relationship. It wouldn't be fair to either of us.
I will, however, admit that I've often caught myself imagining a deeper relationship with MixedSignalGirl. Hell, I caught myself doing it tonight. I see in her eyes something I haven't seen in many others - genuine affection. For me of all people. But I also see something else. My own eyes reflected within hers. That's what gives me pause and reminds me that there's a reason we're not together.
My own eyes remain focused a million miles away.
(I'm going to update this to say that there are real reasons that things would never work out for us. It's not all because I'm insane. We both know what those reasons are, and I'm not going to get into them here. Hell, I wouldn't have even written about tonight if she hadn't asked me to.)