Today I kinda impressed myself.
I walked from The Stratosphere to Mandalay Bay, a distance of approximately 664,323.4 miles.
I'd never been to The Stratosphere before. I was pretty impressed with all the restaurants and shit they have there. I guess because they're so far out of the way that they pretty much have to be able to provide for their guests.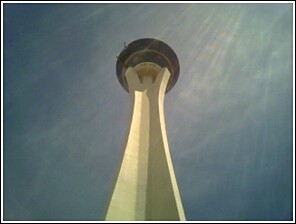 Walking up to the thing is pretty impressive. I mean, you know it's tall, but you might not know that it's fucking tall. Don't feel bad. It's a fine line between the two.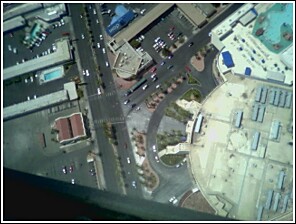 Down there somewhere is the place I stood when I took the first picture.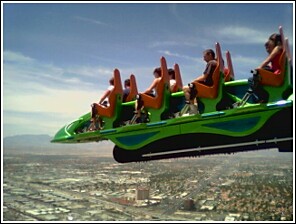 Here are some people that may be about to die. Or at least buy some new underwear.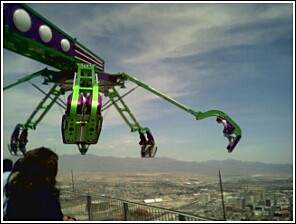 The elevator operator was telling me that when they first opened up this ride they had problems with it. I asked if he meant that it was flinging people to their deaths and he said no just with the wind, where the whole thing would shut down and leave people hanging there.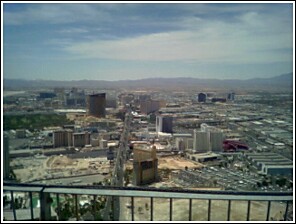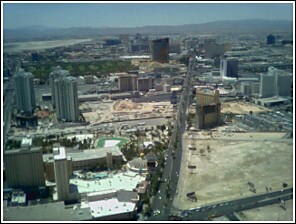 Anyway, once I left The Stratosphere I waked down to The Riviera. The BCA tournament is going on and I thought I'd look to see if anyone I knew was there. I did see a couple of people from Louisville, but nobody from Omaha or Seattle or New Orleans or Memphis. I plan to go back sometime this week, and I also called a couple of people to see if anyone I knew was at the tournament.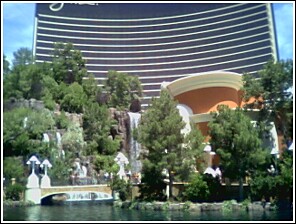 After The Rio I walked to Wynn's new place and checked it out. Pretty cool, but so crowded that I didn't stick around for very long.
When I left Wynn's I walked and walked and walked and walked and walked and walked and walked and walked and walked and walked and walked to New York New York and went into this place called Nine Fine Irishmen for lunch and some beers.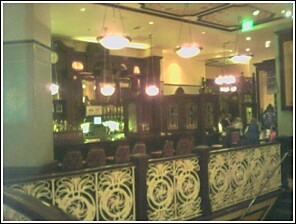 A pretty beautiful place. I took other pictures but they're all shaky and unviewable, like this one: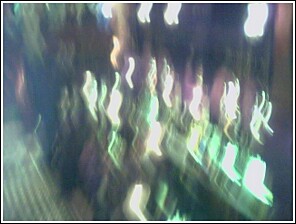 I've been thinking about putting a bar in my basement. I don't I could pull something like this off though, what with 7-foot ceilings and all.
(draft) Nowhere on the tap did it have the word lager. That's false advertising as far as I'm concerned, but so is the lack of the phrase watery baby bunny piss. This just might give a Stella a run for its money as the weakest non-American lager in the world.
To wash the taste of that stuff out of my mouth I had a Smithwick's with my lunch, then had another beer that was new to me.
(draft) Lacing doesn't even begin to describe the foam that clung to my glass. A very nice stout - reminded me a lot of Murphy's. There was just a hint of chocolate, but nothing overpowering or pretentious at all. Yummy.
One more thing. The other day I saw a living creature draw its last breath and fall over dead. I thought I'd seen everything after that, but I was wrong. Here's how my fish 'n' chips came packaged: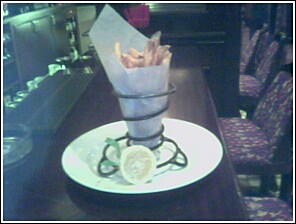 The server told me to just dump the contents of this paper cone onto the plate. I did, but I really felt like I was desecrating a work of art when I did it.
The meal was delicious though.