Tuesday was actually a pretty interesting night.
There were a couple of reasons for this.
First, we all went to a Chicago White Sox game. I took pictures of their new (to me at least) park.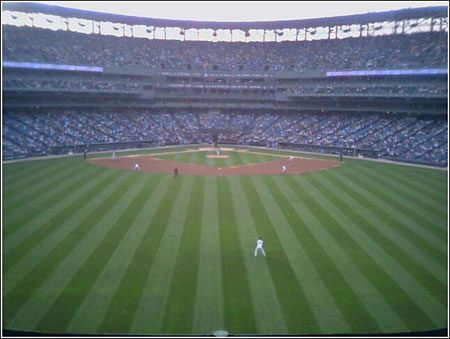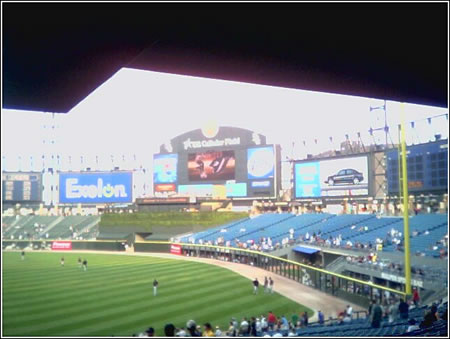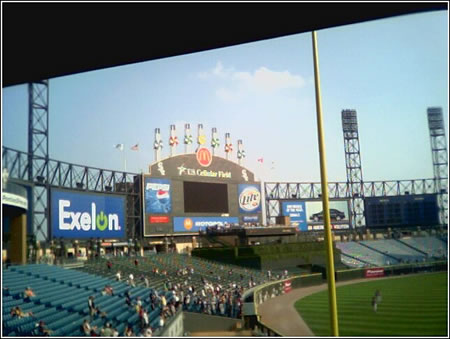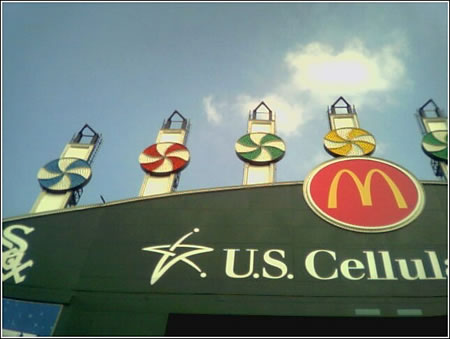 My company had rented this party deck waaaaaaaaaaay out past center field. Kind of prestigious I suppose, but not much chance of a ball ever being hit there. Especially without Frank Thomas playing.
This ballpark has no good beer at all. I only tried one that I thought sounded a little interesting:
(draft) Lord, why hast thou foresaken me? I thought this was crap. I only drank about two sips and then I threw the rest away. Blech.
The White Sox lost their game, just like the Reds lost their game when I went to see them. I wonder if I'm cursed.
I of course bought myself a Sox cap. I also bought myself a Cubs cap because I was planning to head over to the Wrigley Field area later and didn't want to be murdered for wearing the wrong cap.
As it turned out I didn't make it to Wrigleyville. I instead went to this Piece Brewpub that Roger from Rich O's had recommended to me.
A pretty nice little place, though a little bit too dark for pictures. The pizza smelled fantastic, and I'm kinda kicking myself for not trying any of it.
I did try several of their beers though:
(draft) An otherwise bland vehicle for a bitter hoppy aftertaste. What's the point?
(draft) Very light and citrusy. Tasted like a Bud Light to me. Supposedly an ale but I'm not convinced.
(draft) I've rated this right down the middle in every category. Nothing at all stands out. I don't like the style, so I don't like the beer.
Piece Dark Bier (20)
(draft) Dark Lager, almost black. A light coffee flavor. Fairly thick mouthfeel with some lagery fizz at the end. Not too bad, but not great.
(draft) Citrusy aroma. Light apple flavor, with maybe a little apricot? No finish at all. Decent, but the apricot turned me off a little.
So I ended up liking the Belgian okay, and I had two glasses.
Then I went back to McCormick and Schmick's to drool over the pretty waitress some more. I had a couple of Guinnii to give me an excuse for being there.