This entry is late because I had to work all day. It sucked, but it doesn't happen very often that I have to work on a Sunday, so I guess I'll live with it.
The entry is boring because all of the passion has either been sucked out of me or bottled up inside me. I'm not really sure which is the case, and it probably doesn't matter very much at the moment. The end-result is the same - a boring entry.
You have been warned. I suggest that, instead of bothering with this entry, you go read PassionateKisses instead. She's funny as fuck.
I feel like a visual is needed here.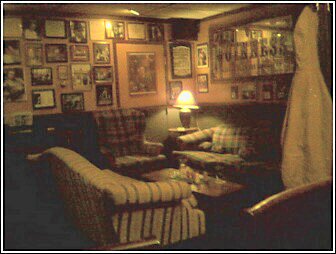 Last night, when I got to Rich O's, I was sitting in the chair, which we all call the throne. NotGeorge was on my right, and WomanRepellant was on my left, and there were a couple of other guys that I don't know all that were sitting around as well.
I had myself a Delirium Tremens (357), and the group of us bullshitted about various fluff. I was already feeling a little bit claustrophobic because WomanRepellant was sitting just about as closely to me as he could while still maintaining some ass-sofa contact. I have no idea what that was all about.
Anyway.
To my immediate right is the kiddie table. This dude comes up and grabs a chair from the kiddie table and turns it towards our group so he can talk with us. Mainly he was just talking with WomanRepellant.
So I found myself stuck in the middle of a conversation between two people who were way into my personal comfort zone. I put up with this for about 10 seconds, but that was all I could stand. I grabbed my shit and went and sat at the end of the bar next to the idiots that had been there Wednesday.
I ordered one of these:
Upland Wheat (3)
(draft) Very fizzy. Too damn fizzy. There was too much citrus and it was a little sour tasting. I didn't care for it at all.
To wash the taste of that crap out of my mouth I ordered a Spezial (740) - a new keg since I'd blown the one on Friday.
At one point WomanRepellant came up and stood at the bar. He'd apparently gotten sick of all the football talk that was going on, and he knew that football was the last thing I'd want to talk about. So we talked for a while about anything but football.
Next I had a Weihenstephaner Dunkel (140).
At one point I returned from taking a piss and my seat had been taken. So I grabbed my shit again and moved over to the other end of the bar since the idiots from Wednesday had left.
At about this time I noticed that there was a Smithwick's handle attached to one of the taps behind the bar. After confirming that they did indeed have Smithwick's on tap I found some chalk and went out and wrote it on the board.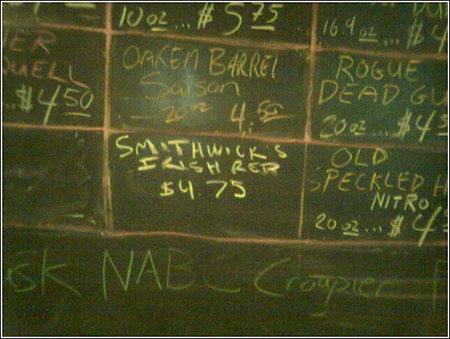 So finally, I've been able to leave my mark in this world. I've always wondered what form it would take.
Once my Weihenstephaner was gone I ordered a Smithwick's (500).
I guess that's about it. I had a fairly enjoyable night, probably because I was irritated for having to pick up my shit and move not just once but twice. Irritated is close to being an actual feeling, and feelings have been hard to come by lately.
As long as I'm trying to break my own record for the most boring entry ever posted, I'll include a couple more pictures: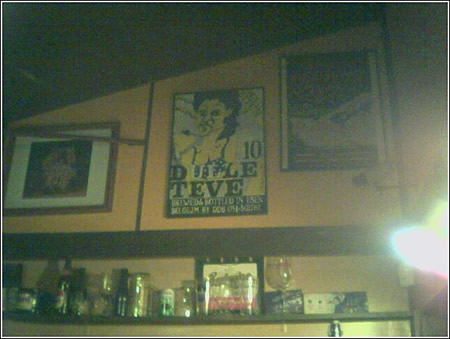 I'm so going to steal this Mad Bitch poster some night.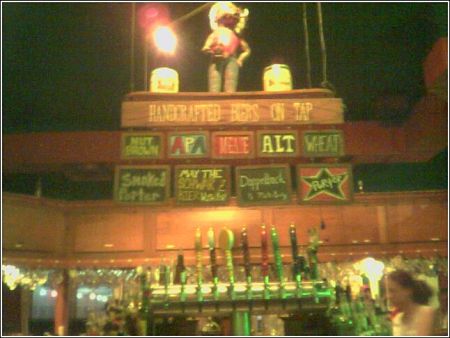 This was a picture I took of the taps at the BBC when I went there recently.
Finally, here's an awkward ending to a pointless entry.