I know, I know, I'm late. I skipped an entire day.
Yesterday was a long day. For some stupid reason I'd bought tickets for the 10:30 PM showing of La Reve. Probably because I'm a dumbass, but possibly because the other showings were sold out. I don't remember.
Anyway, because it was going to be such a long day, I slept in until 9:30 or so. I just hung around The Rio all day long. I played some video poker, and for lunch I went and had a Rogue Chocolate Stout (126) with my chicken tenders.
Then I took a nap for several hours.
This is exciting, isn't it?
Before I went to the show I stopped and had dinner. With my dinner I had a couple more Rogues (158). I traded some text-messages back and forth with VigilanteGirl and RealTrainGirl, then eventually I took a cab over to The Wynn.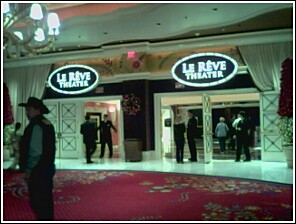 That's (obviously) the outside of where they had the show. You're not supposed to take pictures of the inside but I managed to sneak this one before the show started: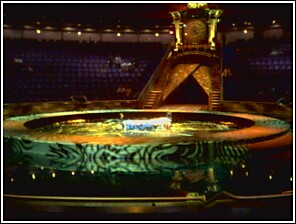 This was a pretty cool show. More dancy and less acrobatic than the Cirque Du Soleil shows that I've attended in Las Vegas. Actually, a large part of the show was ruined for me when The Most Beautiful Girl In The History Of The Universe popped out of the water about five feet in front of me and smiled. I spent the rest of the 90-minute show finding and then staring at her whenever I found her.
When The Most Beautiful Girl In The History Of The Universe wasn't visible I watched the other performers. I really like this artsy-fartsy stuff.
After the show I went back to The Rio. I was thinking about grabbing another beer but The Tilted Kilt was already closed so I just played some video poker for a while (I actually tripled my money, too bad I was playing for quarters instead of dollars) and got to bed a little after 2:00.