Prologue: Same as last night. I sat at the bar and wrote in my notebook when I felt like it.
8:14
I arrive and order a Rogue Chocolate Stout (80). Tastes awful because I just brushed my teeth. The solution: Drink faster.
Here's my rock admiring the Tilted Kilt glass.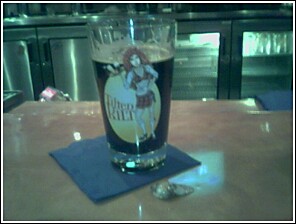 8:18
It's pretty dead in here right now, at least at the bar. Good.
8:25
A couple in their forties just sat next to me. They're looking at the beer list. I'm going to guess: Bud Light for her and Sam Adams's for him.
8:28
I was off, but not as far off as you might think. He got a Sin City Amber and she got a Sprite. I hate them.
8:35
One of the waitresses was complaining that somebody took her picture without permission. I told her that it happens to me all the time. I'm not sure what's so funny, but she laughed and touched my arm. She must want it up the butt.
8:40
I'm revising my opinion of the couple next to me. The girl is in her mid-thirties, and the guy with her may be her father.
8:41
Another Rogue (96). Fucking yummy.
8:44
Another revision. The chick is a pro and the dude doesn't know it. He actually thinks that she's interested in him.
8:45
The john just got a black and tan. He's telling the hooker that it's what everybody in Europe drinks. What a dork.
8:49
I wonder if every entry I make this week is going to be this boring.
8:50
There are some incredibly ugly people in the world.
8:55
Some fuckers just sat to my right. I'm guessing three Foster's. I may have to close my notebook as one of the fuckers is being nosey.
8:57
Two Grey Goose Martinis and one Bacardi & Coke. I should have known, but my brain is geared toward beer.
9:00
I'm taking off my glasses. Watch out ladies!
9:10
Steve the bartender is working tonight. We're talking about how freaked out I was at this time last year.
9:12
Showed PictureGirl my rock. She thinks it's cute. She definitely wants it up the butt. My dick, not the rock.
9:15
A hot girl just sat to my left.
9:22
This glass is almost empty. Do I want another Rogue?
9:25
Yes. Yes I do (110).
9:35
The hot girl left. Oh well.
9:40
I can feel myself being pulled to the Southeast. I wonder, if I'm being pulled by her, am I not also pulling her toward me?
9:45
Time to take a piss.
9:50
A goth couple just sat to my right. My guess: Guinness for both of them.
9:51
I nailed it.
10:00
GothGuy is smoking a clove cigarette. Now I'm starving to death.