Everybody told me that I just had to go to Schlafly's bar slash brewery.
So I did.
I went there at around four I think. I drove myself, figuring that I could always take a cab back to the hotel if the situation warranted.
It's a pretty big place, and at first I thought they might be closed because the parking lot was almost completely empty. Inside was almost empty too. There were just two people sitting at the bar. Some dude and some lady.
I recognized the dude!
It was EvilLou, a pool player I know from my days on the rec.sport.billiard newsgroup and also from the Derby City Classic.
Man what a small world it is.
Of course I knew that EvilLou lived in St. Louis so I guess I shouldn't have been that surprised. I, on the other hand, surprised the shit out of him.
So I sat at the bar and talked with EvilLou and his wife while I had some beer.
It's always a crap shoot as to whether a hefeweizen is in the true German style or the crappy American style. This was American, so I didn't like it. As with most beers, however, this did get better as the glass got emptier. By the end, it was passable. This is not the beer's fault - I just don't like the style.
Here's the only picture I took inside this place: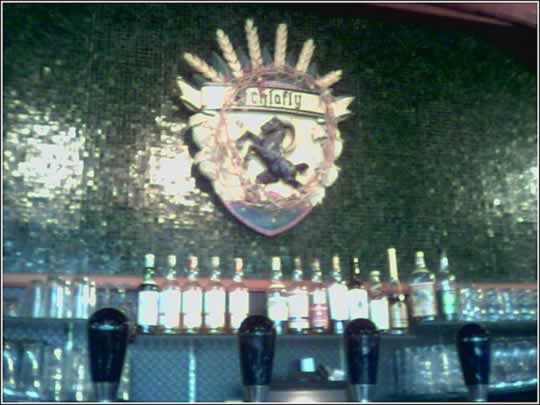 My next beer was much better:
More malty than other Scotch Ales I've tried, and that extra maltiness was needed to help mask the alcohol. A very good beer.
EvilLou and his wife left while I was drinking that last beer, so when I looked at the beer list and saw nothing interesting at all, I decided to head over to another brewpub.
The place I went to was called the Square One brewpub.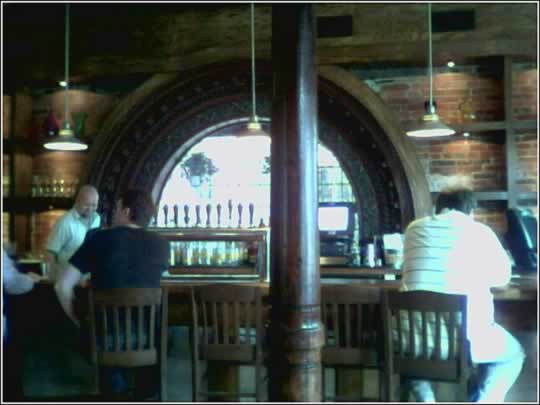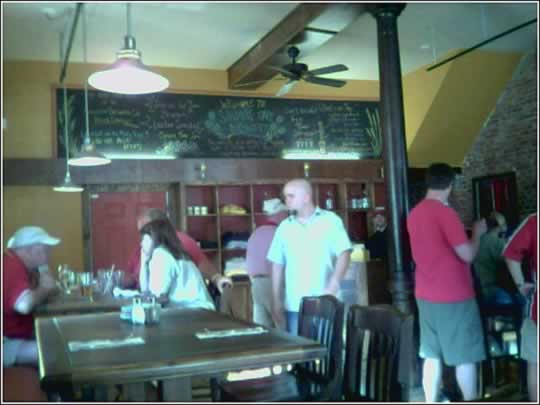 I guess they're affiliated with the Augusta brewery because all of the coasters were from that place.
I had myself some yummy beer-battered chicken tenders, and a beer sampler tray. They had a Belgian Red listed, and that sounded intriguing, but the waitress said they were out. Oh well.
Pretty good. Malty with a hint of cola to balance it out. A lot like Goose Island Hex Nut Brown Ale.
Square One California Common
(2)
Hoppy and malty, with a bitter finish. Common is a very good name for this beer - there are a zillion just like it, and I don't like any of them.
Square One Bavarian Weizen
(6)
The aroma is fantastic, as is the flavor. Maybe a bit more mellow than other German-style wheats. A very good beer.
Square One Stout
(6)
A typical dry stout. Nothing wrong with it at all but nothing great either. Quite roasty, and better than average I suppose.
I had myself another of the Weizens (26) and that was it for me for a while.
I ended up taking a cab back to the hotel.