I feel like I need to say something here, before I say anything else. One of the things that I really hate about traveling is having to work my schedule around the hotel's cleaning people.
On Sunday morning, I was gone from my room for about four hours. When I returned, my room hadn't been touched yet.
During my driving around I'd passed this Winking Lizard place that I'd remembered from my pre-trip research. It was close to the hotel, so I decided to walk. After I'd walked a couple of hundred yards, it started to sprinkle. After I'd walked another couple of block, it started to pour. By the time I got to the bar I was soaked to the bone. I guess this Winking Lizard place is pretty famous or something. They had a decent draft selection, and a very good bottled selection. What I did was have three Great Lakes Edmund Fitzgeralds (112) and some Cajun-spiced chicken tenders while I watched the Indians game on TV.
Here are a couple pics I took inside the place: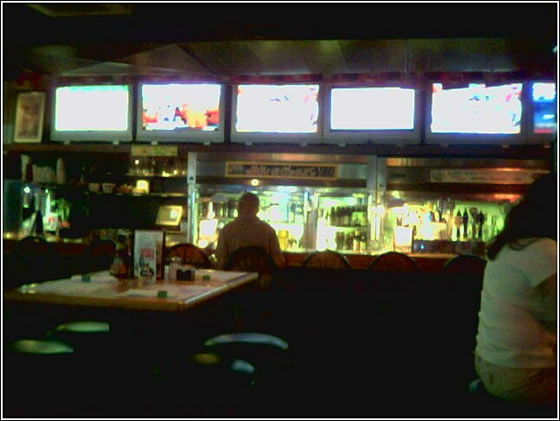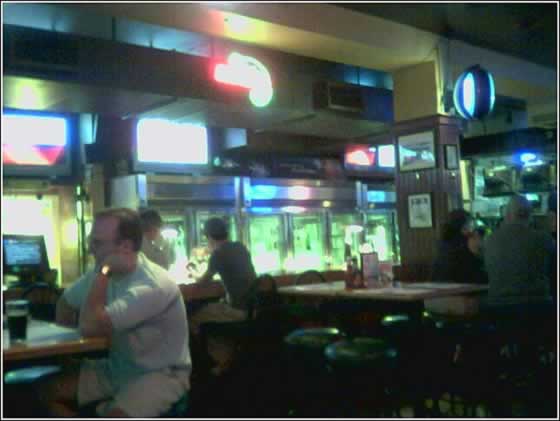 When it was time to leave, I went out front and bought a t-shirt, and took this picture of what I must assume is the bar's mascot: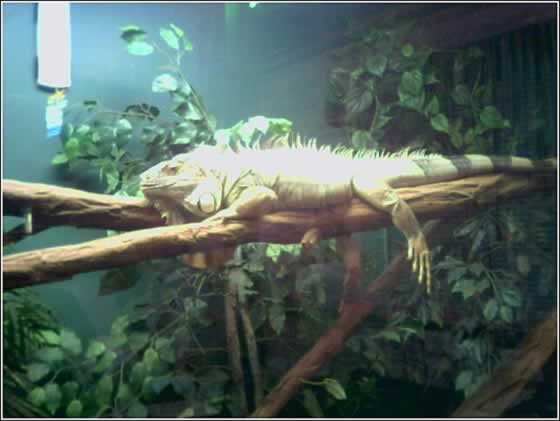 Either that, or they have a really bad pest problem.
Oh yeah, there was a smoldering hot girl sitting at the next table. She had very thin straps holding her top up. I tried using my mental powers to unravel the straps, but it didn't work. Oh well.
So I walked back to my hotel room at about 5:00, and my room hadn't been touched. I grabbed my dirty towels and went out and tracked the lazy bitch down and traded for some clean towels. I also told her that I wouldn't be needing any additional service that day.
Then I took a nap. Then I watched Catwoman on TV. Halle Berry is hot, in case you've been living in a cave on Mars and didn't know yet.
We're up to Sunday night now. I took a cab to the Rock Bottom. While there, I bought a t-shirt from an improbably cute hostess, and I had some beers.
Rock Bottom Walleye Wheat (Cleveland) (16)
(draft) No detectable aroma, and not much flavor. I can't tell if this is an American or a German wheat. It's very bland, but still good.
Rock Bottom Riverbend Red (Cleveland)
(16)
(draft) Looks and tastes like weak tea, but with the slightest hint of creamy caramel. Not too bad. If a beer like this is too much for you then you probably shouldn't be drinking beer..
Rock Bottom Dawg Pound Brown (Cleveland)
(16)
(draft) Very dark brown - almost black, with a nice tan head. Very roasty and malty. Not sure that this should be called a brown ale, but whatever you want to call it, it's still good.
Then, once the bartender found out that I wasn't driving, he gave me this on the house:
Rock Bottom Le Flats Saison (Cleveland) (16)
(draft) Clear gold in color. Looks like a lager, so scary. The flavor is awesome. There are the typical apple undertones, but this is a lot thicker-tasting than most saisons I've had. Damn good. Yummy actually.
The place closed up early, because it was Sunday, so I went out and stole a cab from somebody who'd called for one but didn't get there in time.
I told the cabbie to take me back to my hotel, but about halfway there I changed my mind and had him take me to the Winking Lizard instead. While there I had a Great Lakes Edmund Fitzgerald (128) and got some chicken tenders to go, then walked the short distance back to my hotel.