Here's some crap I wrote Wednesday night.
Another Las Vegas Wednesday. Another night when I get to realize that it's the last full night I'll have here for months. Another night when I get to wonder if I could have done more with my week. Well, this time it's more like a certainty than a wondering, and it's more like a lifetime than a week. But, that's just my mood right now. It fluctuates, in case you haven't noticed.
I'm sitting at the Tilted Kilt, drinking a yummy Tilted Kilt (656) and just kind of soaking in the place for the last time. See, it's going away. Probably late this Summer. And I won't be back until November, so tonight is the last time I'll sit at this bar. This sucks. This place has been my main escape and distraction during an awful lot of troubled times. Las Vegas just won't be the same for me without it.
Also, I really like the free shows here at The Rio. Here's a crappy picture: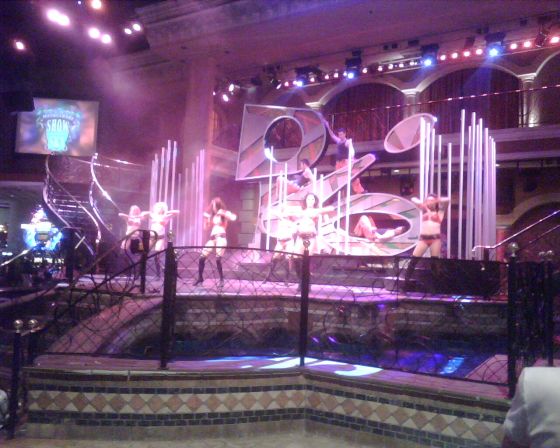 See, that kind of thing almost never happens back at Rich O's. Not even for DaveFest. Plus, it's kinda funny to see five of the gayest guys on Earth, trying to feign interest as they dance/grope five of the hottest girls on Earth.
Much time passes...
I've stayed here at the Tilted Kilt longer than I'd planned, and I've had more glasses of Tilted Kilt (720) than I'd planned, because I've realized that when this bar goes away, it takes this beer with it. This makes me even more sad, hence the staying and the drinking.