You don't have to tell me that it's kinda silly for me to be here now. And by here I mean the red room at Rich O's, and by now I mean 3:30 on a beautiful Saturday afternoon. You don't have to tell me, because I sort of already know it. But what I also know is that I've got a damn good reason for being here. Now.
I'm supposed to meet LaptopGirl here at 5:00, to tell her something which she already knows. Not that one thing which she already knows, silly. Another thing. I need to tell her that her computer is probably on its last legs.
Anyway, I got bored at home and I didn't want to start anything new at 3:00, so I came down here instead. And now I'm sitting and writing and enjoying a Barley Island Dirty Helen (262). But mostly, I'm waiting. I do that a lot, it seems.
So this morning, after I took care of some bullshit exciting challenges for work, I took my Monte Carlo to get its oil changed. That wasn't particularly interesting except that this one dude kept bugging me to sell my car to him. Not gonna happen, OilChangeDude, so back the fuck off.
After that, I drove around for a while. I checked out the new NABC brewery location. Not much to see except for this one temporary banner thingy. I took a picture: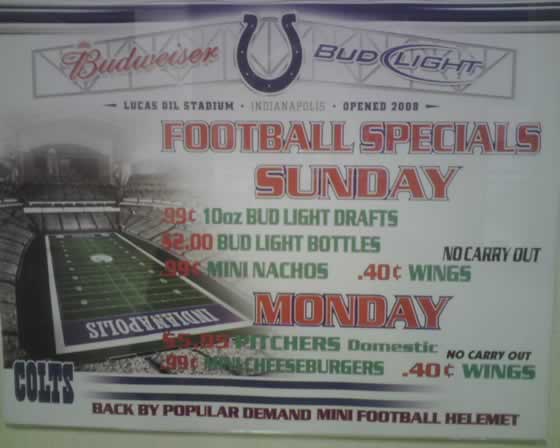 Then I went down to the other side of the floodwall and looked at the river for a while. That place used to seem so isolated when I was a teenager. Now it's some kind of stupid park. They've got fucking bandstands and bleachers and shit. Plus, it's closed at night. Much slaking used to take place there at night. I wonder where people go now, when they want to slake.
Then I went to Polly's Freeze for lunch. And I got to sit at my favorite table, so that was cool.
Next I drove to Lanesville. I'd decided that I was apparently retracing my childhood in reverse-order. I mean with the floodwall and Polly's. With the oil-change place and the brewery, not so much. So I went to this park in Lanesville where I used to play until I was six and we moved away. It used to be a pretty shitty (hey, poet and don't know it) park. And I suppose it's still shitty. But they keep adding new buildings to the place. They're all locked, though. Maybe that's where they keep all the cool stuff.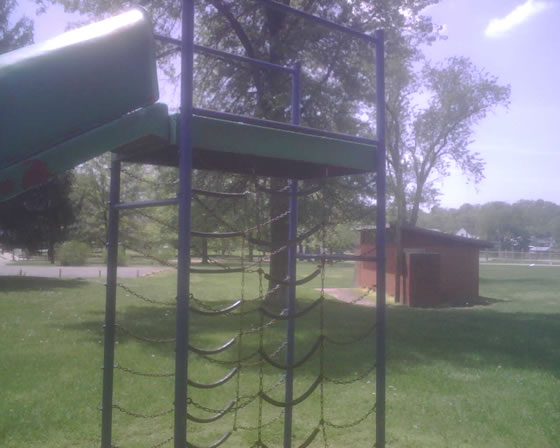 I took pictures of this slide. I can't believe it's still here after all these years. I'd have thought it would have rusted into a heap by now. This slide was always scary as fuck to me, when I'd climb up those shaky chains and then pull and contort myself between the bars to the platform. It was worth it, though, because the sliding-down part was really cool.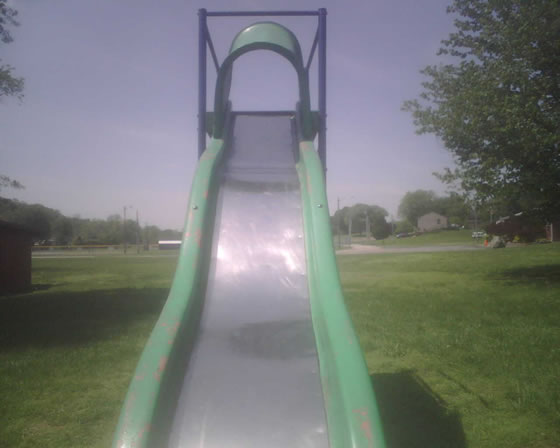 Next I drove to my old house there in Lanesville. I keep hoping to see somebody in the yard, but I never have, and today was no different.
Next I went home for a bit, but I got bored and came here to Rich O's.
Oh yeah, now I'm having my second Dirty Helen (282) and it's yummy.
So there.