Now, where was I?
Oh yeah, at the stupid depressing park.
I'd gone there, as I'd gone to Polly's Freeze earlier, looking for myself.
I wasn't at either place. I remember running into myself once a long time ago. At Rich O's of all places. That was nice, but that was also the last time.
Anyway, by the time I'd returned home from the floodwall park, it was clear to me that there was a 0% chance that anything good would happen Friday night. Understandable, but of course disappointing. Because of this, I saw no reason to bother leaving my house at all. So that's precisely what I didn't do at all. Instead, I sat on my swing and I glared at my phone and I had three yummy bottles of Delirium Nocturnum (157), and that was it.
Then by Saturday at around noon, I'd once again gleaned that there was a 0% chance of anything good happening. Still understandable, still disappointing. But whereas on Friday that 0% had caused me to lose all motivation, on Saturday I couldn't run out the door and jump into my truck fast enough.
Luckily, I always carry a spare pair of pants in my truck, for times such as that. When I don't want to waste time putting on pants before I leave my house.
What I did, and this really was a spur of the moment decision, was I drove up to Noblesville, Indiana. To the Barley Island brewpub, specifically. Just something to do, really. I might just as well have picked Oaken Barrel, as it's slightly closer to home, but I had Barley Island on my mind because LaptopGirl had been raving about their Barfly IPA.
The drive up took a couple of hours. It was uneventful, though I felt bad because I kept getting emails but I was driving and couldn't type my responses very well. I managed to survive the drive* though. I even managed to respond to some of the emails, when the traffic and the rain let up enough.
The first thing I noticed, upon entering the brewpub, was that it was really dark. Like being inside a cave at midnight with my eyes closed and a bag over my head. But then my eyes started to adjust, and I was able to grope and stumble my way, around a bunch of empty tables and up an unfortunately-placed step, to the bar area.
I only took one picture, and it's a pretty crappy picture, even by my standards.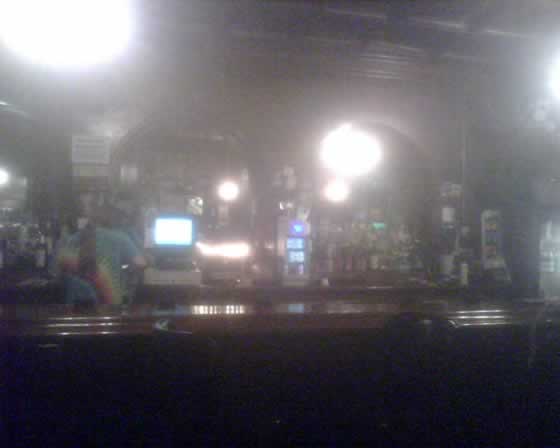 The first thing I did, after seating myself, was order a trio of small samples, of the three available draft selections that I hadn't had before.
Barley Island Sheet Metal Blonde
(draft) Color of hazy grapefruit juice. Light citrus aroma. Very light citrus flavor, with a bit of sourness, like grapefruit juice. Good, not great.
Okay, a Belgian-style wheat. Always welcome.
Barley Island Blind Tiger Pale Ale
(draft) Clear light brown. No detectable aroma or flavor. There was a slightly bitter hoppy finish, but not enough to be completely disgusting. A waste of my time.
I only had about one ounce of that crap.
(draft) The color of clear weak tea. Light aroma of floral hops. Medium mouthfeel. Flavor decent but mild. The slightly bitter finish went away after a few sips. Maybe a good session beer.
Yet another IPA, but this one was with the floral kind of hops that I like sometimes. This was the beer that LaptopGirl had been raving about since she'd discovered it at the beer date thingy last weekend.
I went ahead and ordered a full glass of the Barfly (20), and enjoyed that with my yummy burger and fries. I traded a bunch more emails with LaptopGirl, and a few with RockGirl.
I relaxed fairly well I suppose, but I could already tell that I wouldn't be staying. I guess I'd been hoping to find myself, up there away from all of the distractions of home. But I wasn't there, either. I'm still a slippery bastard I guess.
So next I had a Dirty Helen (400), which is one of my favorite brown ales. And then I had something I wasn't expecting. The place had a couple of guest beers available, and one of those guest beers was an all-time favorite of mine. So my last beer was an incredibly yummy Two Brothers Domaine DuPage French Style Country Ale (310).
Before I left, I bought a couple of bottles to have at home sometime. I also picked up a growler of the Barfly for LaptopGirl.
The drive home was uneventful.
* - Poet and don't know it.