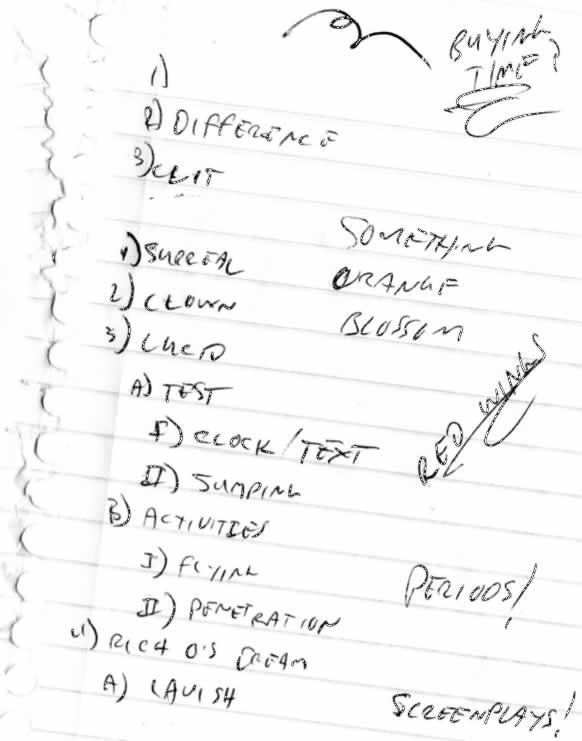 I'm so easily amused. Seriously, it doesn't take much. Even the most stupid things will get me grinning or even giggling for hours. Lately, I haven't been a particularly happy camper. Perhaps some of you more astute readers picked up on that. But even a hopeless sad sack like me can
still
grin every now and then, with the right prodding.
This image illustrates that point. Click on it for a larger version. It makes me grin. Especially number three. Yes, I'm a child. Tee-hee.
Anyway, the other night I had a brilliant idea. I was sitting at Jack's with OddlyFamiliarGirl, as that has become something of a Sunday-night habit lately, and I found myself in a familiar dilemma.
See, OddlyFamiliarGirl is very smart, and very talkative. This is a brutal combination. Quite often, I find myself listening intently to what she's saying, but listening so intently that I'm constantly forgetting the things I want to say. Then, when OddlyFamiliarGirl pauses to take a breath, I'm left with nothing with which to fill the silence.
Hence, my brilliant idea.
Frustrated with my nonexistent short-term memory, I asked for a piece of paper and a pen. With those things, I was able to jot down little notes to myself, and those notes were enough to remind me of the things I wanted to add to our discussion when the opportunities arose.
And, this past Sunday, one of the things we discussed was the clitoris.
I think it was Jay, and not Silent Bob, who once asked, "The female clitoris?"
Yes, that's the one.
Then we talked about dreams and other random stuff. It's all in the notes.