It seems that there was a sporting event of some kind last night. People stayed home to watch, then when it was over, I guess they all went and threw themselves off the Sherman Minton bridge. Whatever people were doing, they weren't at Rich O's.
Here's Rich O's at 8:45 on a Saturday night: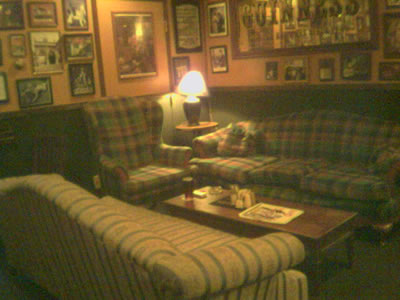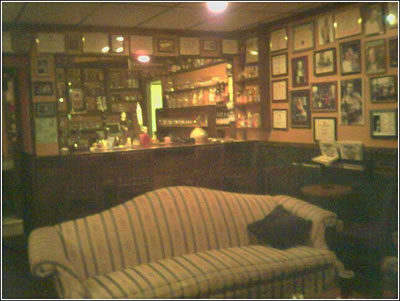 LaptopGirl and I used to say, on those nights when Rich O's was dead, that all of the cool people must be at some fantastic party. A party to which we weren't invited. Last night was like I was the one having the party, but nobody felt like coming.
Anyway, the place was dead. I caught a glimpse of CoffeeDude, and DisgustingMakeoutCouple showed up after a while, but other than that it was me and the bartenders. By the time I left at midnight a whopping dozen or so strangers had managed to push aside their grief over some guys scoring more points than some other guys, so the place was only quiet, no longer dead.
To drink, I had (surprise!) an NABC Noble Smoker. DayShiftDude recommended a Schlenkerla Fastenbier so I had a half-pint of that.
Supposedly lighter in smoke than Schlenkerla's other rauchbiers, and I guess that's right because I didn't feel like I was eating a charcoal briquette. I'd say it was pretty good for one glass. By the time I finished my second glass I was pretty much smoked out.
I drank my beers in a silence interrupted only by the occasional interloper to the living room area. I had some news on my mind that I was trying to come to grips with. Not sure that I really made any progress, and any that I did make was overshadowed later, so I guess the night was pretty much a wash for me.
Oh, yeah. I stopped and protected VigilanteGirl from some mumbling crazy guy. He was really creepy so I stayed for a while to make sure he didn't come back.
I'm such a stud.